Foreigners of the Oscars
As the 93rd Academy Awards Ceremony approaches, after a delay due to the pandemic, Istanbul Modern Cinema presents a selection of 10 films from the "Best International Feature" category. Last year, for the first time in its history, a 'foreign' film won the Best Film award but the Best International Feature remains a fixture at the award ceremony. The films, which will be screened online and free of charge, represent different parts of the world and different cultures, as well as the "other" to Hollywood and have won awards from various festivals around the world. The films include Alaa Eddine Aljem's The Unknown Saint, Mecid Mecidi's Sun Children, Thomas Vinterberg's Another Round and Valentyn Vasyanovych's Atlantis.
For the screening program and more information, visit istanbulmodern.org.
ESRA KAYIKCI TRIO
Kadikoy municipality's Yeldegirmeni Art Venue continues to offer jazz and classical musicians for music lovers. On February 26, Turkish singer Esra Kayikci, who won the Grand Prize at the Made in Jazz Competition in the New York, will perform, accompanied by Hakan Kamali on guitar and Uraz Kivaner on piano.
Tickets are available at bilet.kadikoy.bel.tr.
MILLI RE CHAMBER ORCHESTRA
Established in 1996, the Milli Re Chamber Orchestra will take the stage of Is Sanat as part of its February edition of digital performances. The concert, where violinist Ozgecan Gunoz and oboist Sezai Kocabiyik will accompany the orchestra under the baton of Oguzhan Kavruk, will be available on February 25 at 8.30 pm.
For more information, visit Is Sanat's Youtube channel.
GOKHAN AYBULUS-OZGUR UNALDI
Cemal Resit Rey (CRR) Concert Hall's online concerts continue with the performance of pianist duo Gokhan Aybulus and Ozgur Unaldi. The LocksBridge pianists will perform a repertoire of two Rachmaninoff piano compositions on February 23.
The concert will be available on CRR'S Youtube channel.
TANGO NEVA
Tango Neva will perform a versatile repertoire for tango lovers on February 27. Hosted by the Cemal Resit Rey (CRR) Concert Hall, Ayse Nil Ulgener, Yonca Sulun, Gaye Susluoglu, Ayse Didem Hekimoglu, Julide Canca Eke, Ceren Akcali, Ali Pinar, Gustavo Battistessa and Yusuf Yalcin of Tango Neva will perform compositions by various musicians including Dmitry Shostakovich, Virgilio Exposito, Hector Stamponi and Necip Celal Andel.
The concert will be available on CRR's Youtube channel.
BORUSAN QUARTET: FROM PAST TO PRESENT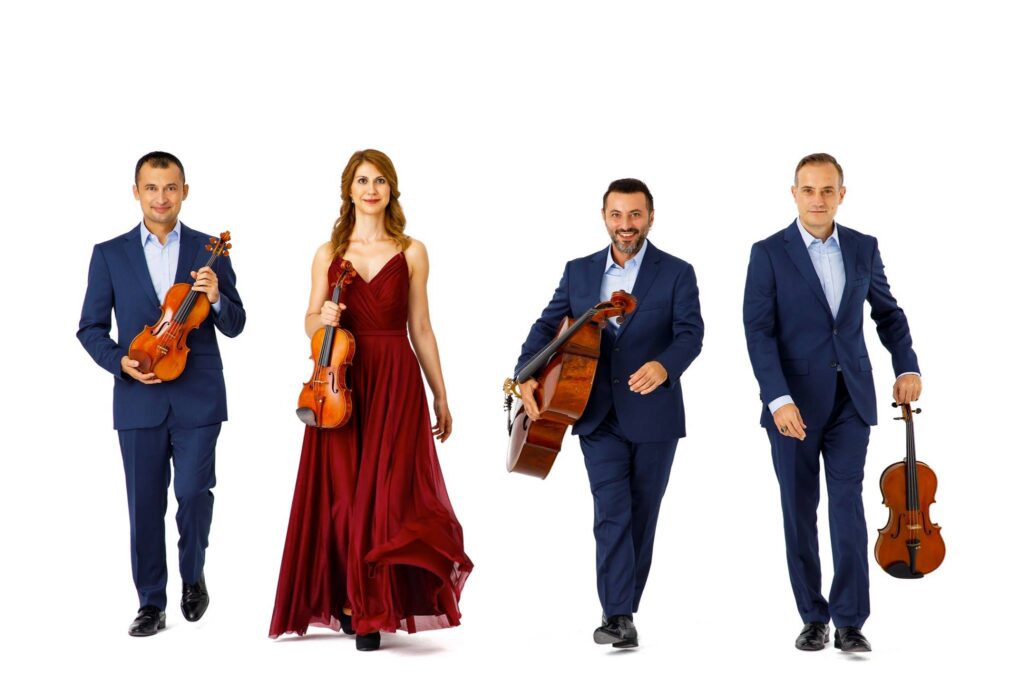 Private art platform Borusan Sanat invites music lovers to enjoy a performance by Borusan Istanbul Philharmonic Orchestra (BIFO). Under the baton of renowned Australian conductor Patrick Hahn, the orchestra will perform compositions by both Turkish and international musicians, including Astor Piazzolla and Sadi Isilay.
The concert is available on borusansanat.tv.
PIAZZOLA ON FIRE
Istanbul International Opus Amadeus Chamber Music festival celebrates its tenth anniversary with an online selection this year. The compositions and melodies of Astor Piazzola, known as the king of tango music, will be performed by various artists as part of the Best of Opus Amadeus program.
For tickets and more information visit biletix.com.
DUNYA MUZIKLE MUTLUYKEN
As part of the Istanbul International Opus Amadeus Chamber Music festival's tenth anniversary concerts, various orchestras, duos and quartets from Turkey and abroad perform the melodies of the world, from Handel to Hummel, Bach, Kuhlau, Donizetti and Merula.
For tickets and more information visit biletix.com.
BIFO SPECIAL: BEETHOVEN
Commemorating Beethoven, the Borusan Istanbul Philharmonic Orchestra will perform under the baton of Gurer Aykal, with guests Ukrainian pianist Valentina Lisitsa and Turkish violinist Naz Irem Turkmen.
The concert is available on borusansanat.tv.
STAY HOME, STAY SAFE
Since the pandemic took control of our lives, we have adjusted to a new normal both in our personal and professional lives. Remote work has become permanent in some sectors while others struggled to find alternatives to offices. Artists, meanwhile, have been cramped in their homes, trying to make sense of their experiences and translate them into their work. But as the saying goes, there's always sunshine after the rain. Here are some views from artists on the pandemic era.
Tidal Waves
Independent art platform Mixer presents Leyla Emadi's first solo exhibition. Bringing together installations where phrases first spill onto paper and then into their surrounding spaces, the exhibition guides visitors through the artists own process of confronting the world over the past year. Emadi's work forces us to leave our comfort zones and step into the unknown and the uncertain.
The exhibition is available at Mixer from Tuesday to Saturday between 11am and 7pm.
Of Paper
Ferda Art Platform's new group exhibition explores the myriad ways in which paper has woven itself into our lives. Curated by Selin Akin, the exhibition presents works by 12 artists that treat paper as a subject matter as well as a primary material.
The exhibition is available at Ferda Art Platform from Monday to Friday between 11am and 7pm.
Stamp 2
Cigdem Sensoy's new solo exhibition celebrating her 20th year as an artist is available at Fular't Art House. The artist aims to shed a light on stamps, which were a crucial part of letters at one time, evoking a sense of nostalgia.
The exhibition is available at Fular't Art House from Tuesday to Friday between 1pm and 6pm
Level
Zilberman Gallery presents a new digital exhibition, that was originally exhibited at its Berlin space in which artist Manaf Halbouni addresses global developments in politics as well as shifts in power relations. A mosaic shaped like a QR code shows "fragments of the faces of some of the world's most powerful politicians today" according to Zilberman.
The exhibition is available at zilbermangallery.com.