By HUSNIYE GUNGOR
NO OTHER COMPANY epitomizes the idea that the pandemic has affected our lives in every sense than Hayat Kimya, Turkey's global Fast Moving Consumer Goods (FMCG) company. As masks became part of our daily lives, Hayat brought its 33-years of experience in hygiene and cleaning products in the FMCG sector into the surgical mask industry. In six months, the company has become the largest Turkish surgical mask manufacturer with an annual production capacity of six billion units – and the only company using its own raw materials. Thus, when Hayat Kimya Vice President Aysel Aydin says: "We have seen what we can do and we adapt rapidly," she really means it.
In manufacturing terms, the cost of achieving this leading role in a product line that will likely remain in demand for the foreseeable future was relatively low – TRY 100m. But with that money, Hayat Kimya has employed 600 people who pump out 16 million potentially life saving masks per day. Their competitive advantage derives not only from their decades of manufacturing experience, but also in the fact that the company was already producing non-woven fabrics, one of the key materials used in surgical masks, in its own plants, making it the only surgical mask manufacturer in Turkey that produces with its own input materials. "This enables us to offer the best of Hayat to our consumers with sustainable production competency and uncompromised quality at all times," says Aydin.
Hayat Group, Hayat Kimya's parent company was established in 1937. A half-century later, Hayat Kimya was born as Turkey's first detergent producer. The company added more products in the FMCG segment over the years, taken its first steps to go global with a factory in Bosnia-Herzegovina in 2005. Employing 10,000 people and operating 10 subsidiaries across Middle East, Asia and Africa, Hayat Kimya produces diapers, hygienic pads, detergents, cleansing tissue and masks with 15 brands including Molfix, Molped, Bingo, Papia and Familia. The company is the world's 5th largest branded baby diaper manufacturer and the largest tissue manufacturer in the Middle East, Eastern Europe and Africa by capacity.
PANDEMIC CREATED NEW OPPORTUNITIES
Under the new 'normal' conditions of 2020, with the pandemic making masks a daily must-wear, Hayat Kimya entered the surgical mask sector with the Evony and Goodcare brands. Aydin believes that 2020 has been a year where consumers focused on the price and function of the products rather than design, aesthetics and elegance. "The loss in importance of designer items in the cleaning products category was one of the most striking changes in consumer habits during the pandemic," she says. Responding to consumers' search for environmentally-friendly, innovative and functional products in this period, the company launched Bingo Oxyjen, a product that promises high cleaning performance with chlorine-free hygiene in indoor environments.
But with 2020 now behind us, Aydin says Hayat Kimya has no plans to put the brakes on its investments in 2021. The company is investing TRY 450m to construct a second sanitary paper production plant in Mersin.
With the completion of the investment, its current 70,000-tonne annual production capacity will double, bringing its total capacity across Turkey to 280,000-tonnes, securing the company's position as the largest sanitary paper producer in the country. The new generation plant, which should be opertional by mid-2021 will provide employment for 200 people. Sixty percent of the roll paper, toilet paper, paper towel, napkin and tissue production in this facility will be exported to 50 countries across Europe, the Middle East and Africa.
LARGEST TISSUE MANUFACTURER IN RUSSIA
Overseas invesments will also continue in 2021. A new tissue production plant with a 70,000tonnes per year capacity in Russia will provide 500 new jobs. "What's more exciting is, with this additional capacity, total Hayat tissue production capacity will become 210,000 tonnes per year in Russia, making Hayat the largest tissue manufacturer in Russia," Aydin says.
Hayat Kimya has 15 brands, manufactured in 8 countries and sold in 100 countries. The company is the biggest producer in the Middle East, Eastern Europe and Africa in the sanitary paper line. Tissue consumption per person is extremely high in the U.S. (12.7kg) and Western Europe (8.8kg) compared to the rest of the world (3.3kg), according to the latest Euromonitor data. The U.S., with approximately four million tonnes of annual consumtion, is the biggest toilet paper market, accounting for 66% of global consumption.
"We have been taking steps to grow in these markets. Our sales in these regions increased 5-fold in 2020 compared to the previous year," says Aydin, adding that the Papia, Familia and Teno brands are sold in more than 15 countries, including the U.S., UK, Germany, France and the Netherlands.
With its globalization plans, Hayat Kimya aims to grow by continuing to transfer its experience to the Middle East, Balkans, Asia and Africa faster and with more agility, according to Aydin. "With our investments in the African region, especially in Kenya which is economically growing and developing, we have brought our high quality and innovative products to 3.5 million babies between 0-3 years. In Kenya, where we operate with our sales and distribution activities, our goal is that one third of Kenyan babies will wear Molfix in two years. In Morocco, Molfix is the second biggest player in the market."
AMONG TOP 50 EXPORTERS
Hayat Kimya is one of the top two players in all of the markets where it operates. Surveys show that at least one Hayat product can be found in 8 out of every 10 households in Turkey. The company has ranked among Turkey's top 50 exporters for four years in a row. Led by Aysel Aydin at the company headquarters in Istanbul, the strategy and marketing department carries out product innovation, brand positioning and marketing planning activites in more than 100 markets. "The most critical role depends on market research," says Aydin, "In every country, we compete with international brands with advanced marketing strategies and we have quickly become one of the top two brands."
As part of Aydin and her team's efforts to strengthen Hayat Kimya's position in Turkey and globalize its products, Bingo and Molfix brands have been supported by the Turquality program – the world's first and only government-subsidized brand incentive initiative – since 2007 and 2010, respectively. Encouraging industrial players in their globalization adventure, the Turquality initiative makes significant contributions to Turkish companies like Hayat Kimya, according to Aydin. "However," she concludes, "we continue to strive to improve and we have the experience, motivation and enthusiasm to enter new markets and to meet new consumers."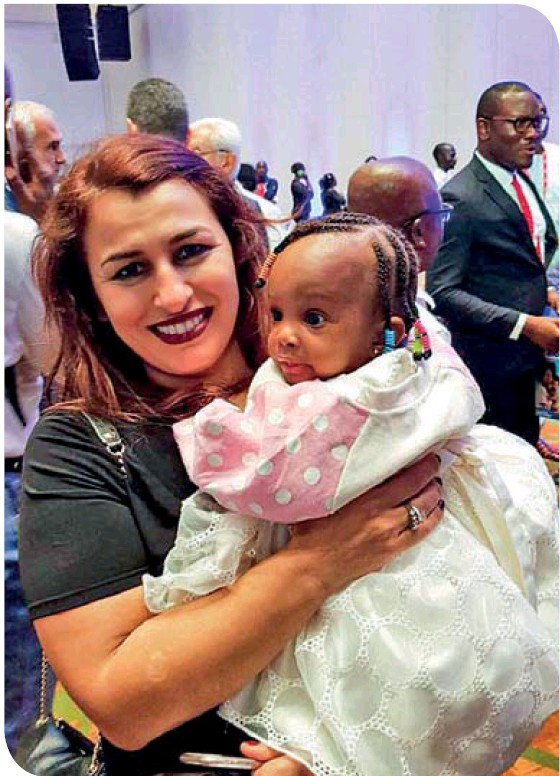 WE THINK GLOBAL, AND ACT LOCAL, LITERALLY: AYDIN
"Our success comes from our ability to adapt to new markets and cross fertilize cultures. We think global, and act local – literally. Realizing large investments across categories are achieved by dedicated and results-oriented teamwork, taking calculated risks and adopting a forwardlooking mindset. In order to spread our brands to different continents and to be successful globally, we are maintaining our investment momentum, focused on sustainable growth. We work with the belief that everyone in the world has the right to access quality products. Local consumer understanding is another important pillar for our success. Hayat understands local dynamics and consumer needs, and offers its best to consumers in the market. That gives our brands a competitive edge over global and local brands."
BIGGEST R&D FACILITY IN FMCG INDUSTRY
'Innovation' is not a product-limited concept at Hayat, according to its vice president, Aysel Aydin. "We work with an innovative approach from product development to leveraging new raw materials and packaging, as well as adopting the latest technologies in our production infrastructure. This approach increases the efficiency of our global operations, and secures the dynamism and agility of our organization," she remarks. Introducing many "firsts" to Turkey, such as the first detergent for children and the first two-ply soft toilet paper, Hayat has now unified all its R&D activities under its Global R&D Center in Kocaeli. The center is the first and largest R&D investment in the FMCG industry in Turkey with 101 researchers holding more than 50 patents, both unprecedented numbers in Turkey.
ALL ENERGY NEEDS AT FACILITIES MET BY A SINGLE INPUT
Water is one of the most important inputs of paper production and Hayat Kimya consumes the lowest amount of water in Turkey and the third lowest amount of water in Europe for its sector. The company converts natural gas to electricity, heat and steam with a technology called cogeneration and uses it in production processes. Few have adopted this technology because it is considered inefficient, with efficienty levels as low as 25-30%. But Hayat Kimya has managed to increase efficiency levels to around 80%. Thus, the entire energy needed in the production processes and administrative operations in their smart factories is met by a single energy input. The Turkish Cogeneration and Clean Energy Technologies Association chose Hayat Kimya as "Best Practice in the Sector."