Spring Watch
Istanbul Modern Cinema's new film program takes the audience on a tour of the past. These films, some of which made their debuts in international festivals in 2020 and will be screened for the first time in Turkey, all deal with the concept of the past, sometimes as a sweet yearning, sometimes as a forceful reminder and sometimes as a "trace that resists erasure". The program includes Mohammad Rasoulof's latest film, There Is No Evil, which won the Golden Bear in Berlin last year. The film depicts four stories about the death penalty in Iran. Also, two films by leading European filmmaker Agnieszka Holland – Charlatan, a story about healer Jan Mikolasek, and Zappa, which depicts the life of influential rock musician Frank Zappa – will be included in the program. Meanwhile, Fanny Liatard and Jeremy Trouilh's 2020 film Gagarine, which tells the story of a young man named Yuri who tries to prevent the demolition of his home due to urban transformation while dreaming of going to space, will make its debut in Turkey. All films will be available online for free.
For more information and the program, visit istanbulmodern.org.
EYLUL ERGUL QUARTET
Akbank Sanat's online concerts continue with the Eylul Ergul Quartet on May 27. Ergul, who will take her usual spot at the piano, will be accompanied by Serdar Barcin on saxophone, Ozan Musluoglu on double bass and Ferit Odman on drums.
The concert will be available on Akbank Sanat's Youtube channel on May 27.
YUZLESME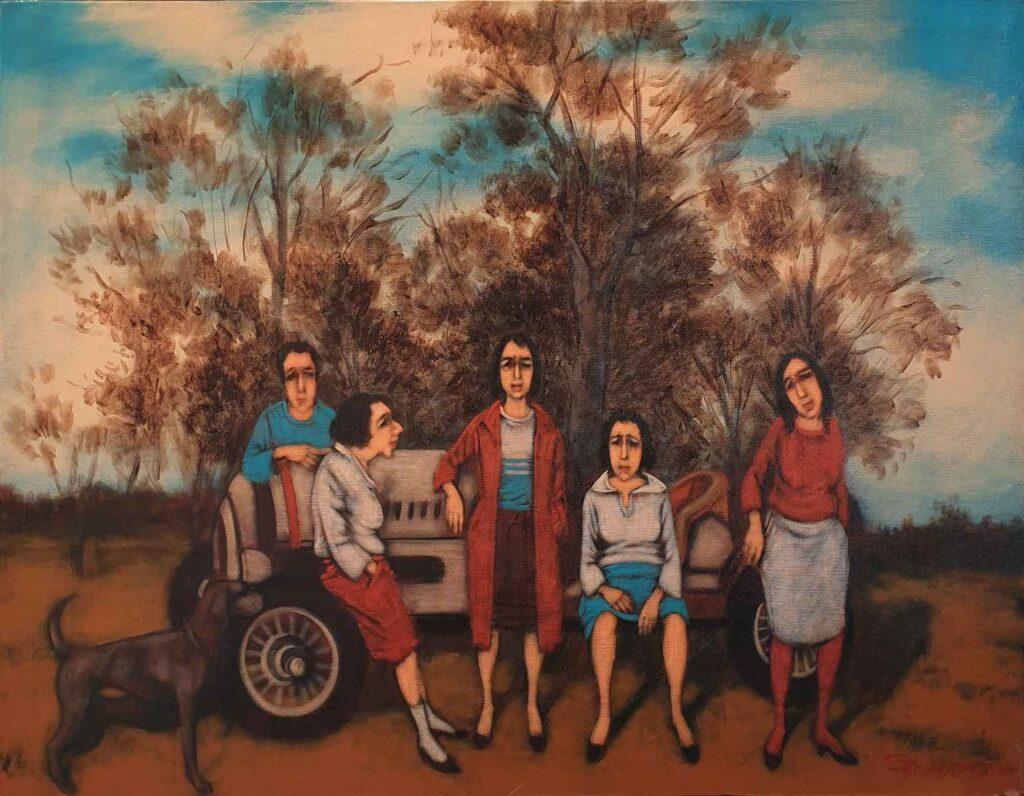 Cadde 160 Art Gallery will host Turkish painter Orhan Umut's 56th solo exhibition. Known for his figurative style, Umut presents the traditional and the "other" crossing paths through cultural means and abstract observations. The artist focuses on social conflicts as well as the status of women in society and urban transformation.
The exhibition is available at Cadde 160 Art Gallery from Tuesday to Saturday between 11.30 am and 7 pm.
MONSTER QUESTION
Independent art platform Oktem&Aykut will present Turkish artist Hasan Deniz's new solo exhibition. Deniz's photographs, focused on beaches, the sea and the creatures living inside it, portray a calm scenery.
The exhibition is available at Oktem&Aykut from Tuesday to Saturday between 12 pm and 7 pm.
DANCE OF TWO PIANOS
Cemal Resit Rey (CRR) Concert Hall hosts two Turkish pianists for a night full of well-known piano compositions on May 25. Ece Demirci and Turev Berki will perform works by Samuel Barber, Igor Stravinsky, Aaron Copland, Carlos Guastavino and Astor Piazzola. The program will include compositions that are written for two pianos where the instruments perform their own dances.
The concert will be available on CRR's Youtube channel on May 25 at 8 pm.
ISLAM MANAFOV

Azerbaijani pianist Islam Manofov will be the guest of the Cemal Resit Rey (CRR) Concert Hall on May 28. Manofov, who has performed in Turkey many times, will interpret compositions of renowned musicians such as Beethoven, Liszt and Chopin.
The concert will be available on CRR's Youtube channel on May 28 at 8pm.
THE WINNER TAKES IT ALL
Artist Emel Kurhan's new solo exhibition will be hosted by the Oktem&Aykut art platform. As the title of the exhibition suggests, Kurhan, who mainly works with acrylic paint and embroidery, uses images of playing cards to express a sense of spacial and psychological uncertainty.
The exhibition is available at Oktem&Aykut from Tuesday to Saturday between 12pm and 7pm.
ELIF SANCHEZ
Renowned Turkish jazz musician Elif Sanchez will take Cemal Resit Rey (CRR) Concert Hall's digital stage. Sanchez,
who has worked with top musicians in Turkey and the U.S., will perform songs with her unique style where she merges Turkish folk music, classical music and jazz. She will be accompanied by Cenk Erdogan on guitar, Paul Sanchez on trumpet and piano, Enver Muhamedi on double bass and Nedim Ruacan on drums.
The concert will be available on CRR's Youtube Channel on May 24 at 8 pm.
THE OTHER SIDE OF THE DREAM
Istanbul-based independent art platform Kundura Cinema's digital screening platform, Kundurama, offers a new selection of international short films and videos free of charge. The screenings are curated by the founder of the New York-based independent and experimental streaming platform Kinoscope and film writer Pawel Wieszczecinski and include English artist and director duo Daniel & Clara's 2019 documentary Notes From A Journey and Indian director Payal Kapadia's short films And What Is the Summer Saying and Afternoon Clouds. Also, Fiancées by Swiss director Julia Bunter follows three Egyptian women with different social backgrounds and religious sects close-up on the long and complicated road to marriage while Russian director Alina Rudnitskaya's School of Seduction, follows three women who attend a course where they are taught how to seduce rich men. Both documentaries examine the lives of women who are caught between the impositions of conservatism and the desire for change and freedom in Egypt and Russia.
For more information and the program, visit beykozkundura.com.
NIGHT FLIGHT
Depo Istanbul will host Turkish painter Raziye Kubat's new solo exhibition. The works displayed at the exhibition carry influences from her recent artistic process and the changing state of the world between 2017 and 2021. Paintings, video works, audiobooks as well as elements designed to benefit the lives of stray animals and children can be seen at the exhibition.
The exhibition is available at Depo Istanbul from Tuesday to Sunday between 11am and 7pm.
KENTLERIN YALNIZLIGI
Artsteps presents a new group exhibition that focuses on individuality in urban areas. Curated by Furkan Atasoy and Nihan Ulgun, the photographs of Timurtas Onan, Murat Bakmaz and Fatih Cindemir question the lifestyles of estranged individuals. Although pessimistic, the photographs allow visitors to feel united in their individuality.
The exhibition is available at Artsteps from Monday to Friday between 10am and 4pm.
SPACE, OUT OF SPACE
Hush Gallery hosts a new group exhibition that questions the relationship between living and existence and individuals and their spaces – both physical and emotional. The artists, Cailiín Alainn, Cins, Huseyin Rustemoglu, Kemik, Melike Ucku, Rafet Arslan, Seda Dincay, Sercan Apaydin, Sahsenem Altiparmak, will display works in a variety of mediums ranging from paintings to photography and installations.
The exhibition is available at Hush Gallery every day from 11am to 7pm.