Unknown Parameter Extra-Record
Independent art platform Arter opens its new season with a solo exhibition by Turkish artist Emre Huner. The exhibition consists of various works constructed around a fictional script. Huner's approach liberates the script from its main purpose and deconstructs it in different forms, such as film, literature and architecture, to suggest a multidisciplinary creation method instead of a straight line to a result. These works present fictional narratives and compositions that are unable to merge in the quest to bring the artificial, biological, mechanical and organic together. The sculptures, installations, photo-etchings, silkscreen prints, film and texts, reflect a performative production process that relies on improvisation. As a "semiotic machine", [Elektroizolasyon] documents the process and context of its own making and "secretes new layers and scales of reflexivity that appropriate and transform every new form and medium it touches into a new orbit around its core".
The exhibition is available at Arter from Tuesday to Saturday between 11am and 5pm.
MENEVIS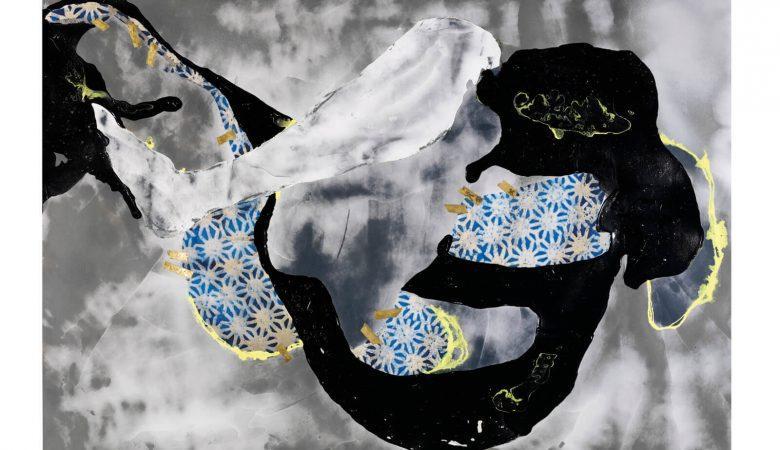 Turkish painter Olgu Ulkenciler's sixth solo exhibition is now available at Art On. Meaning "color fluctuations and a glow on a surface created by light", Menevis explores innovation and change as two-dimensional representations on a surface, interrogating the ephemeral nature of human experience.
The exhibition is available at Art On from Tuesday to Saturday between 10am and 7pm.
Onur Caliskan "Esrik" featuring Tolga Bilgin
Cemal Resit Rey (CRR) Concert Hall continues to offer musical performances through digital mediums. On March 31, clarinet player Onur Caliskan will perform "Esrik", accompanied by trumpet player Tolga Bilgin, guitarist Efe Demiral, bass guitarist Eren Turgut, drummer Mertcan Bilgin and percussionist Mehmet Akatay. The concert will explore the concept of "esrik", meaning ecstatic.
The concert will be available on Wednesday on CRR's Youtube channel.
RUPTURE
Turkish artist Sami Baruh's new solo exhibition at the independent NOKS Art Space focuses on tin can manufacturing, a family business that is passed on to successive generations. The artist documents the experiences of workers and the factories through different disciplines such as photography, video and sound. Baruh keeps a record of manual machines and the workers who are in charge of them.
The exhibition is available at NOKS Art Space from Wednesday to Saturday between 2pm and 7pm.
Following the 20th Century
Borusan Sanat presents a new concert recording by the Borusan Istanbul Philharmonic Orchestra (BIPO). The concert presents a 20th-century focused repertoire from Schoenberg to Stravinsky and Ligeti. Cemi'i Can Deliorman, the principal conductor of the Presidential Symphony Orchestra (CSO), conducts the BIPO as a guest conductor.
The concert is available at borusansanat.tv
TEKBASINA
Mine Art Gallery Experimental welcomes Turkish artist Yusuf Taktak's new solo exhibition. Taktak, who is one of the co-founders of the gallery, aims to transform the exhibition space into a more experimental environment. "The artist dreams and creates alone," says Taktak and welcomes art lovers to visit his installation, which represents his creative processes.
The exhibition is available at Mine Art Gallery Experimental from Tuesday to Saturday between 11am and 7pm.
INVENTORY
Galeri Soyut presents Turkish artist Coskun Sami's new exhibition. Focusing on the cynicism that is common among generations that grew up under the totalitarian rule of Eastern Europe, Sami also touches upon cultural heritage and how it is symbolically used by governments in his paintings. Other issues he addresses include modernism, underdevelopment, progress and regression.
The exhibition is available at Galeri Soyut from Monday to Saturday between 10am and 7pm.
GASLIGHTING
Oktem&Aykut presents a new solo exhibition by Turkish painter Gokce Cabadan. Cabadan enriches the meaning of the phrase Gaslighting, i.e. a form of emotional abuse, which has become increasingly popular over the past decade. The artist emphasizes the fact that the ideas provided by individual gaslighting methods are signs of the power constructions of societies. Identity emerges in relations of love, friendship, business and family as a piece of the puzzle of the social structure, according to the artist.
The exhibition is available a Oktem&Aykut from Tuesday to Saturday between 12pm and 7pm.
KOK
Galeri Diani welcomes art lovers to its new group exhibition featuring Gulseren Sudor, Hale Sontas, Hulya Duzenli, Zeynep Dilek Cetiner, Sema Bicik and Tugba Onder Demircioglu. The artists portray the duties that women willingly, and sometimes unwillingly, assume in society.
The exhibition is available at Galeri Diani from Tuesday to Saturday between 12:30pm and 7:30pm.
IN THE ROOM
Galeri Bu presents the In the Room project, which was first launched in 2018 at Pavillion by Galeri Bu, an alternative exhibition venue within the art gallery. The goal of the exhibition is to create a space for four artists, each of them in a separate room so that they can have imaginative space. Every year, the artists are changed. This year, Aytac Beyazgul, Ece Gauer, Didem Unlu and Hilal Can, portray their own myths, family stories and neurotic situations using different mediums.
The exhibition is available at Galeri Bu from Tuesday to Friday between 12pm and 6pm
Japa
The Jazz State of the House series by Akbank Sanat as part of the Akbank Jazz Festival continues to offer older performances, including one by Japa, a Sanskrit word meaning the continuity of a frequency and expansion of this repeated sound. The band, consisting of Cagla Karaali, Efe Artun Yuksel and Ogulcan Akca, performs modern and mainstream jazz compositions as a trio, as well as their own works.
The concert is available on Akbank Sanat's Youtube channel.
Dunya Halk Sarkilari
Kadikoy-based art initiative Yeldegirmeni Art Center invites the audience to enjoy examples of music from all around the world. On March 31, soprano Sebnem Unal, accompanied by pianist Verda Karacil Cerit, will perform songs in various languages, including Turkish, French, English, Italian and Spanish. The repertoire will consist of composers such as Saygun, Berio, Lorca, de Falla and Karcilioglu.
Tickets are available at bilet.kadikoy.bel.tr.