Sadie Benning: Resilience Diaries
Pera Film's new film program presents a retrospective selection of films and short videos by Sadie Benning, a U.S.-based artist considered one of the leading figures of experimental cinema. Benning, whose interest in cinema began at the age of 15, presents a unique style where her work emerges from a place half-childlike and half-adult with all the honesty, humor and desperation of a personality just coming into self-awareness, trapped and uneasy. Pera Film's program, which will be available until March 26, features six of her films including Living Inside, a short film that expresses the sadness and isolation Benning experienced at 16 when she took a three-week retreat from school. If Every Girl Had a Diary, another film from the program in which her camera acts alternately as confessor and accuser, captures Benning's anger and frustration towards social prejudices. In Girl Power, Benning expresses a personal rebellion against school, family and female stereotypes. The artist's 1992-short, It Wasn't Love, illustrates her encounter with a "bad girl", while The Judy Spots introduces Judy, a paper maché puppet who ruminates on her position in society. The final film of the program, German Song, is a short film shot in black and white that follows a disengaged youth.
The films are available to watch at peramuzesi.org/Film.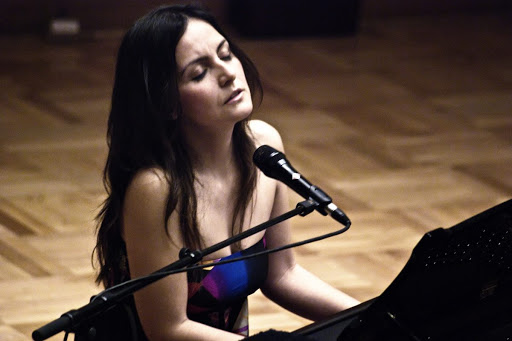 SELEN GULUN DUO FEAT APOSTOLOS SIDERIS
Kadikoy Municipality's Yeldegirmeni Art Center will host pianist, composer and singer Selen Gulun and principal double bass player, Apostolos Sideris, on March 19. The concert will be a reflection on Gulun's duo performances in Japan with different musicians since 2015. These performances led Gulun to launch a live-performance album named Many Faces in Japan in 2019.
Tickets are available at bilet.kadikoy.bel.tr.
JAZZ SPRING WITH THE SENOVA ULKER BAND
The Senova Ulker Band, a collaboration between some of Turkey's best jazz musicians, formed 1996 will celebrate spring with an infusion of jazz as part of Is Sanat's online concert event on March 20. The collective consists of Erdem Ozkan, Sibel Kose, Ediz Hafizoglu, Kagan Yildiz, Ercument Orkut, Bulut Gulen, Engin Recepogullari, Serhan Erkol, Senova Ulker, Halil Ibrahim Isik and Baris Dogukan Yazici.
The concert will be available on Is Sanat's Youtube channel on Saturday at 8:30pm.
AVISHAI COHEN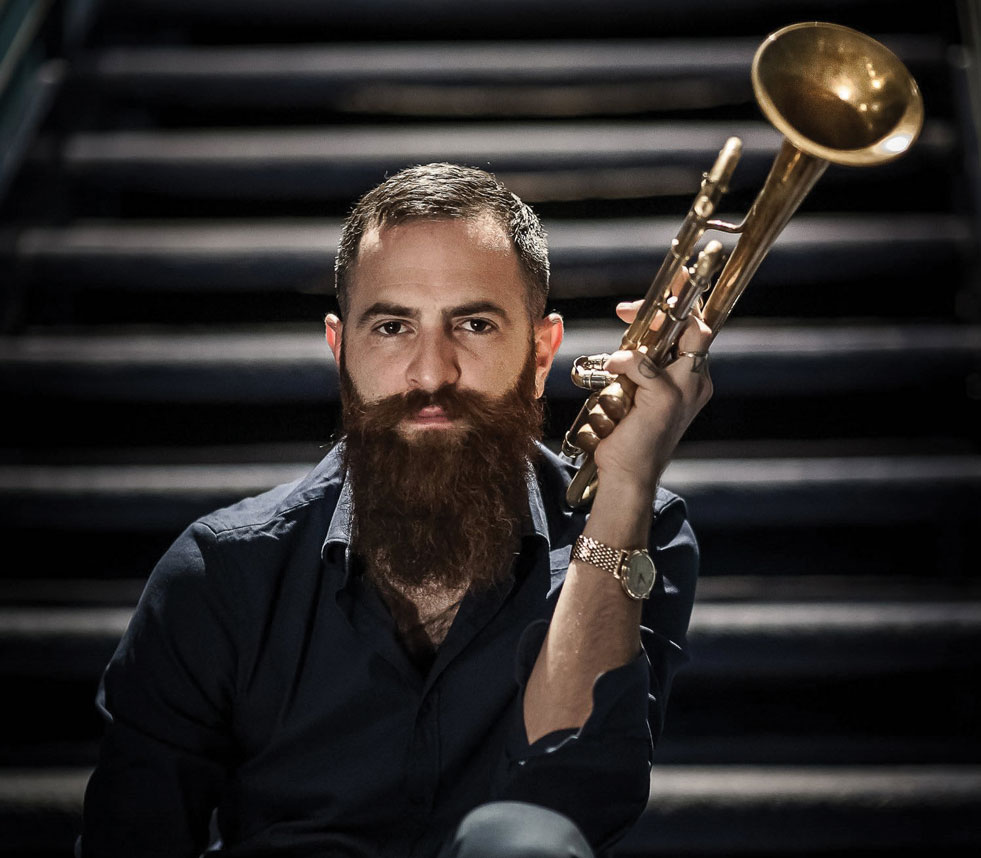 Israeli New York-based trumpet player and jazz musician Avishai Cohen will take the Babylon Istanbul stage on March 16. Cohen will perform his new project, Big Vicious, which is composed of two guitars and two drums around his trumpet melodies.
Tickets are available at biletix.com.
CANAKKALE VICTORY AND MARTYRS' MEMORIAL DAY CONCERT
Cemal Resit Rey (CRR) Concert Hall will host a special event on March 18 to commemorate those who lost their lives at the Battle of Gallipoli. The CRR Turkish Music Ensemble will perform eulogies, ballads and folk songs under the baton of Hakan Talu.
The concert will be available on CRR's Youtube channel.
ENSEMBLE LOTUS
Cemal Resit Rey (CRR) Concert Hall presents the classical music group Ensemble Lotus. The band, which consists of Sevil Ulucan Weinstein and Ruzgar Turgay on violin, Beste Tiknaz Modiri on violin, Rahsan Apay on the violoncello, Onur Ozkaya on principle double bass, Aysegul Kirmanoglu on clarinet, Mert Kutlug on bassoon and Cem Akcora on French horn, performs compositions by Franz Schubert.
The concert will be available on March 17 at CRR's Youtube channel.
OTTO BAROK
The Turkish baroque ensemble, Otto Barok, will meet music lovers at Kadikoy All Saints Moda Church on March 17. The ensemble, which consists of Orhan Avci, Berkay Cermik, Huseyin Var, Asli Ruzgar Cermik, Didem Kelesoglu and Semi Dincer, will perform opera songs from the beginning of the Renaissance to the Baroque era. Countertenor Kaan Buldular and soprano Cansu Bas will be the guest musicians for the evening.
Tickets are available at biletix.com.
Double Portrait
Milli Reasurans Art Gallery will host Turkish photographer Cemre Yesil's solo exhibition on March 17. Running a
small publishing house along with an interest in photography, Yesil describes Double Portrait as a "manifestation of togetherness while paradoxically creating a space to think and cope with the (m) other's absence".
The exhibition will be available at Milli Reasurans Art Gallery from Tuesday to Saturday between 11am and 6:30pm.
AHMET ASLAN
Turkish musician Ahmet Aslan will take the stage at Kadikoy's Halk Egitim Merkezi on March 20. Known for combining Western and Anatolian music, Aslan has designed an instrument called a La-Tar, which is a combination
of guitar and baglama, a Turkish instrument with three pairs of strings. Aslan will perform songs from his previous albums, an experimental musical journey with the La-Tar.
Tickets are available at biletix.com.
Karma
Piramid Art Platform presents Turkish photographer Ugur Kayan's first solo exhibition. The artist, who considers
nude photography a radical tool to highlight society's attitudes toward the "other", aims to raise awareness of violence against women in the name of "honor".
The exhibition is available at Piramid Sanat from Monday to Saturday between 10 am and 7 pm.
Devrim Erbil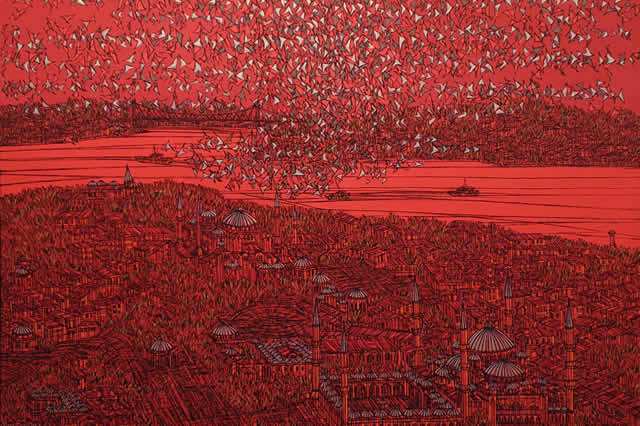 Ankara-based Arda Art Gallery will host renowned Turkish painter Devrim Erbil's works. Erbil's linear style, which emerged in the 1960s, inspired by nature motifs, turned into a bird'seye view composition with a little inspiration from miniature art. The objects which we see in nature and real-life are re-built in Erbil's linear structure.
The exhibition is available at Arda Art Gallery from Monday to Saturday between 10:30am and 7pm.
Karyalilar
Painter Ozkan Elagoz's new solo exhibition greets art lovers at Artgalerim Karakoy. Taking inspiration from the Carians, the ancient inhabitants of Caria in southwest Anatolia who fought to leave the legacy of their time to future generations, Elagoz aims to introduce Carians to the audience and remind them to mind the environment and nature.
The exhibition is available at Artgalerim Karakoy from Tuesday to Saturday between 10am and 6pm.