By HUSNIYE GUNGOR
Readymade garment manufacturer Koton, which was established by the Yilmaz couple back in 1988 as a small shop, started its globalization journey with its Munich store in Germany in 1996, one year after it began producing its own products. Now operating with 470 stores in places like Russia, Romania, Kazakhstan, Morocco, Tunisia, the Balkans, France, and the Gulf countries, Koton neither has a store in Germany or has plans to invest in one. Instead, after a quarter century of building a strong brand image, it is taking looking at e-globalization as the path forward, focus on building up its digital infrastructure and logistics capabilities.
"We are going through unpredictable times in which we have to change our plans on a monthly and even daily basis," says Yimaz Yilmaz, Koton Chairman, but e-commerce, he adds, is a great support. From what he says about Koton's investments in e-commerce, Yilmaz sounds humble, considering that he is putting all the effort and resources of his substantial company into transformation, especially after the financial bottleneck Koton experienced at the end of 2019.
"It was not easy," he says, understating what he describes as the most difficult period he has ever witnessed during his professional career. "I remember the 2001 crisis, when the USD/TRY rate increased from 600 lira to 2,100 in a day and the interest rate reached 3000%; that was not easy as well," he remembers. But the nature of global economy during a pandemic crisis made things harder this time.
Refusing to be the victim of this financial bottleneck, partners of the company immediately injected TRY 700m in the company as it entered 2020, through a capital increase. Debt contracts with banks were also restructured. "The resources needed for the transformation of the company was initially supplied by the sacrifice of the partners and then the support of the banks," Yilmaz says.
Koton did its homework well during the lockdowns in 2020 and prepared for the opportunities of the coming period, which Yilmaz thinks lie in having a wider global e-commerce network through investments in infrastructure, qualified human resources and obtaining unique information on customers and Customer Relations Management systems. That is why investments in brick and mortar stores will decrease in the coming period.
THREE MAIN DIGITAL INVESTMENTS
However, is the company ready for this digitalized world? "To say that we are ready is as dangerous as to say that we know everything," Yilmaz says. "So, we like saying that we want to be prepared for the new digital era that already started with the pandemic."
Therefore, the company has three main digitalization investments. One is Product Lifecycle Management (PLM), meaning end-to-end monitoring of a product from its fabric to sampling and point of sales. Helping to react faster in fast fashion, the PLM system will be operational by next month.
Second is customer analytics, which will enable the company to offer alternatives for each unique customer by looking at how many times they visit the website, which products they spend more time on and combining the store customer data with online customer data. "We will get a deeper insight on customer choices this way," Yilmaz notes.
For its third investment, Koton is working with one of world's biggest infrastructure developers, for which Yilmaz requests anonymity due to their commercial welfare. This is a two-year project that will have artificial intelligence (AI) at the center of the business. From sales at stores to creating orders specific to each store, combing customer data analytics with store sales, Koton will be able to make sales and marketing decisions in a more productive way. With the inclusion of image recognition software, the planning systems of Koton and data at the point of sales and customer analytics will be managed from one platform.
"When we finalize these investments, we will turn into a more productive company which is able to create a product into a sample and an end-product faster, better understand the customer and manage all the data on one platform, thus analyzing trends better," Yilmaz says.
LOGISTICS BECOMING THE CORE OF BUSINESS
Koton already has e-commerce operations in 19 countries but the target is to expand to 39 countries by the end of the year. The infrastructure investments, therefore, will help the company easily manage such a expansive global operation. "With its global brand image, Koton is recognized by consumers and this helps us to sell immediately as soon as we engage in an e-commerce platform abroad," says Yilmaz, adding that in 2020, e-commerce sales increased by 62% in Turkey compared to 2019. The increase abroad was 150% with the help of the base effect. "We expect a 100% increase in e-commerce sales abroad and 30% in Turkey in 2021."
This growing global e-commerce operation made it necessary for the company to invest in logistics, "which has become our core business," Yilmaz says. "Starting in May, we will start our own logistics center in Turkey, because you have to be fast and responsive to the rapidly changing needs of the consumer." Koton may invest in logistics abroad as well when volumes increase to be able to manage the operation with third parties. Additionally, the company is working to open their store stocks to e-commerce in many countries in which they operate, like Russia, Kazakhstan, Romania, Serbia and Morocco. This will also expand to other countries in time.
The total investment in infrastructure and logistics will be around USD 7-8m this year, Yilmaz estimates, and reach a total of USD 15m by 2022.
Speaking about the financials of the company: "We had negative growth in 2020, when all stores (representing 80% of turnover) were fully closed for three months," Yilmaz says. The closures would have normally affected the turnover growth by 50% during the whole year, but fortunately, with the help of e-commerce, it did not reach that level, he adds. In 2021, Yilmaz expects 15% growth compared to 2019 and more than 50% compared to 2020. "We weathered the storm," Yilmaz says, adding that they are planning on healthier growth for the coming years. "We can't wait to go back to corona-free days, where we will grow faster with the channels we have been working on," Yilmaz says, referring to the infrastructure projects.
Commenting on the future of the ready wear garment sector: "From 2022 onwards, the growth rate of the brands who can stay devoted to customer needs will be higher," Yilmas says. "Koton, hopefully, will be one of them."
Koton may not have its store in Munich, anymore, which they were all fond of, because it was the first step the company took into the global market. But it doesn't make sad in any way because the company is about re-enter the German market via four e-commerce platforms.
***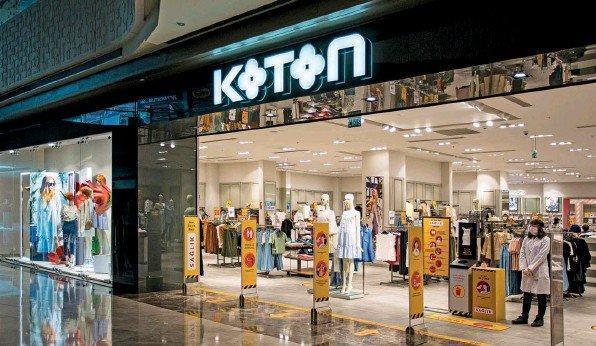 NO MORE AGGRESSIVE STORE PLAN FOR KOTON
Yilmaz: "For store investments, you have to make your contracts at least 6 months in advance but the major agenda of this period is profitability. We opened 21 stores in 2020, and have 18 openings planned for the first half of this year, but we closed more than we opened. The main competitive advantage for Koton in the coming period will be the brand image, which is 'fashion, a wide and constantly changing product range and affordable price.' Koton is the favorite women's brand in surveys in shopping malls for the last eight years. Our brand power is strong and we want to turn this into a kinetic power by reaching global consumers via a wide sales network, namely e-commerce. We will no longer have an aggressive store opening plan. We will keep the number of stores limited and use the potential of e-commerce in a profitable way. Namshi, the online shopping channel we have just engaged with, will give us a 10-store sales potential in the United Arab Emirates. So, investing in our brand, people and stock in the coming period is more important that store investments, which does not mean that we won't have stores anymore."
AI TECHNOLOGY TO BETTER UNDERSTAND FAST FASHION
Koton has a design lab, the team there works closely with the customer insight department, which combines the analyses of the design lab on the latest trends and guides Koton with trends on a daily, weekly and monthly basis. The Chief Marketing Officer uses this data to better evaluate customer choices and lead the design and brand teams. This is an ongoing process. Koton also has a trend measurement tool (TMT), an analysis infrastructure that feeds the brands daily. The company is adding image recognition and AI technology to this TMT to get snap feedback by measuring and monitoring what the competitors, influencers and customers focus on more via social media.
WORKING WITH RESPECT
Koton is running a handicraft project with UNDP and Multi-purpose Community Centers (CATOM) for five years in which women living in the southeast Anatolia region do the embroidery work for some better-selling pieces. The project creates income for 10,000 families. Koton's motto is respect: respect to humanity, society, environment, employees, and the job itself. To contribute to a sustainable world, the number of collections made from recycled fabric are increasing. The company is also part of the Better Cotton Initiative (BCI), the first brand from Turkey included in the initiative. Koton made a promise to have more that 50% of the cotton it uses come from BCI. Using BCI over five years will save 8 million cubic meters of water, reduce pesticide use by 5 five tonnes , reduce chemical manure use by 750 tonne while at the same time increasing cotton production by 1,100 tonnes (or 4 million t-shirts), helping farmers.
WORKING AS A COUPLE
Gulten Yilmaz and Yilmaz Yilmaz, a former teacher and a former officer, 34 years of marriage, 36 years of relationship, but they have known each other since they were children. She was 13 and he was 17 when they met in their neighborhood. They grew up together while they were also a growing a small shop into a global fashion brand. "We tolerate each other, support each other and try to get the advantages of working together. We did not have the same ideas while we were growing the business. This has become the driving force of Koton," Yilmaz Yilmaz says.