BY BESTENIGAR KARA
JAPAN AND TURKEY will mark 100th anniversary of diplomatic relations in 2024. While doing so, the two countries seek to raise bilateral trade and deepen economic ties further. The Economic Partnership Agreement (EPA) between Turkey and Japan will achieve that, according to Kazushige Nobutani, President of the Japan External Trade Organization (JETRO). "The economic relationship between Japan and Turkey is very stable, steady, and strong. We noticed that an EPA would enhance the possibility of increasing bilateral trade," Nobutani said in an exclusive interview with TR MONITOR on the sidelines of the Turkey-Japan Business Forum in Istanbul.
Founded in 1958, JETRO is a government-related corporation that operates to promote mutual trade and investment between Japan and overseas countries. The organization had initially aimed to promote Japanese exports, but its core focus has shifted toward promoting foreign direct investment (FDI) into Japan and helping Japan-based SMEs maximize their global export potential during the 21st century. JETRO provides information and consultation services to accelerate innovation between Japanese and foreign companies and gathers firms through various activities. "We have organized over 100 seminars, prepared more than 500 reports, and provided over 3,000 consultation services over the past decade," said Nobutani. Headquartered in Tokyo, JETRO operates 76 overseas offices in 55 countries worldwide and 52 offices in Japan.
JETRO launched its Istanbul Office in 1963. JETRO Istanbul serves as a bridge to develop economic, commercial, and investment relations between Turkey and Japan. The institution collaborates with the Turkish Presidency Investment Office, the Foreign Economic Relations Board (DEIK), and the Independent Industrialists and Businessmen Association (MUSIAD), with whom it signed the MoU. "For instance, MUSIAD visited Japan together with 50 companies last July. We and MUSIAD held a joint event in our headquarters in Tokyo," Nobutani noted. "That was a big delegation, and we organized a matching event with Japanese firms. Some of them still maintain business talks."
The latest event hosted by JETRO was the Turkey-Japan Business Forum on September 5 in Istanbul to develop economic and commercial relations between the two countries. The top-level ministry officials, including Trade Minister Omer Bolat and Japanese Economy, Trade and Industry Minister Yasutoshi Nishimura, economy organizations, and the Japanese and Turkish business world representatives attended the event, organized on the occasion of the 100th anniversary of the Turkish Republic and the 60th anniversary of the foundation of JETRO Istanbul. The potential cooperation and business opportunities were discussed during the event. "The forum is one of the best examples of what we do as JETRO. Although we previously focused on the Japanese side, we host this kind of seminars, matching events, exhibitions, and other organizations to invite Turkish people to Japan," Nobutani added.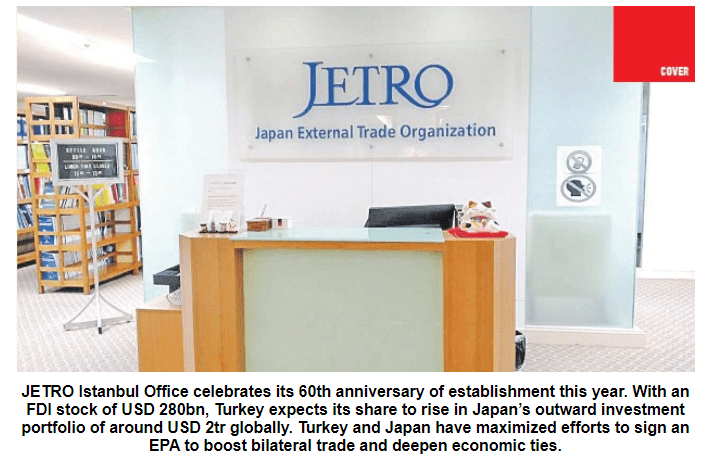 APPAREL AND FOOD EXPORTS CAN BALANCE THE TRADE
The trade volume between Turkey and Japan totaled USD 5.3bn in 2022 and USD 3.47bn in January-July 2023, according to the Turkish Statistical Institute (TurkStat). The figure is estimated to exceed USD 6bn at the end of this year. Fishery and animal products, cereals, legumes, oil seeds and their products, mining products, automotive industry, chemicals, and chemical products are the top export items to Japan. The automotive industry, machinery and their parts, electrical and electronics, steel, chemicals, and their products are the most outstanding import items from Japan.
Turkish exports to Japan amounted to USD 664.4m in 2022 and USD 392.8m in January-July, while its imports from the country hit USD 4.64bn last year and USD 3.08bn in the first seven months of this year. Touching on the net importer position of Turkey, Nobutani stated that Turkish exports of lifestyle products, such as apparel and food, including pasta and olive oil, can positively contribute to balance the bilateral trade. "Those products can be the fast mover to raise Japanese imports from Turkey. People have recognized the quality of Turkish products in Japan."
To him, an EPA will raise bilateral trade between the two countries and increase business opportunities between Turkish and Japanese companies. "Japan can also raise its exports to Turkey through EPA mainly on sectors to improve the quality life in Turkey, such as baby products, health care products or beauty products," Nobutani said. High technology, the drama industry, products to address women, seismic isolation technologies, disaster prevention, earthquake resilience, superstructure and infrastructure projects, digital economy, and smart cities come to the forefront as possible cooperation areas to increase bilateral trade and deepen economic ties.
As Nobutani says, Turkey and Japan can also cooperate within the frame of the Paris Climate Agreement. "We welcome the ratification of the Paris Agreement by the Turkish government and parliament. Turkey and Japan have a scarcity of energy. We can collaborate in this area," he added. From this perspective, renewables, including thermal energy,
alternative energy technologies, and electric vehicles (EV) are among the outstanding fields of cooperation. "Each industry has started to create a real project for cooperation after the ratification of the Paris Agreement in Turkey."
280 JAPANESE FIRMS OPERATE IN TURKEY
Japan, the world's third-largest economy with a GDP of USD 4.4tr, sees Turkey as the gate opening to Europe and the Middle East and observes a high potential in the country, which has a population of 85 million with a median age of 33, according to Nobutani. "Turkey has a young population, technology, strong base of industry, and diligent moderate people. It has a geographic proximity to the European market with no regulation and targeted barriers," Nobutani said, adding that Turkey is attractive with these elements.
Touching on Japanese FDI inflow to Turkey, Nobutani stated that around 280 Japanese firms operate in the machinery, equipment, automotive, finance, food, and services industries in the country. For instance, Nissin Food, which entered Turkey in the 2010s, produces pasta at its factory in Turkey and exports it to Japan. The carmaker Toyota, on the other hand, decided to invest EUR 317m in its Sakarya factory to produce new hybrid and EV models at the beginning of 2023, bringing its total investment to EUR 2.3bn in the country. Operating in the air conditioning industry, Mitsubishi Electric Corporation decided to invest USD 113m in a new manufacturing plant in 2022 for Mitsubishi Electric Air Conditioning Systems Manufacturing Turkey Joint Stock Company (MACT), the firm's air-conditioner production base in Turkey. The company made an additional investment of USD 17.3m in MACT in 2021. The USD 113m investment will raise MACT's annual air-to-water (ATW ) heat pump production capacity by 100,000 to 300,000 units. It will also increase its annual room air conditioner manufacturing capacity by 300,000 to 1.1 million units. Production is expected to begin in February 2024. The firm's new manufacturing plant will include eco-friendly CO2-emission reduction measures. "I have to say heat pumps are very economical and environmentally friendly products. The company aims to export them mainly to the European Union," Nobutani noted.
As to new investments, Nobutani emphasized that Japanese companies globally reduced FDI flows due to uncertainties, in line with a survey conducted by JETRO last year. "Considering Russia's invasion of Ukraine, high inflation, and the U.S.-China trade tensions, there are many unknown factors. So, the headquarters of Japanese companies slowed their investments. They will get slower to calculate the situation," he added.