Practice and inspiration for the digital transformation of Chinese commercial banks (*)
DIGITAL TRANSFORMATION IN CHINESE COMMERCIAL BANKS
Chinese commercial banks have developed their understanding of digital transformation practice due to their exploration and experience accumulation in the field.
1) Industrial and Commercial Bank of China (ICBC)
ICBC proposed to build a "science and technology force" strategy of "agility, wisdom, ecology, digitalization, and security". Among these principles, "agile" represents an agile bank whose mechanism changes to stimulate the endogenous driving force, "wisdom" denotes a smart bank whose technology runs through the front, middle, and back offices, "ecology" represents an ecological bank that is open, interconnected, and integrated without boundaries, "digital" represents a digital bank whose data assets release new elements of vitality, and "security" represents a safe bank that is stable, controllable and supports sustainable development.
2) Bank of China
The Bank of China proposed the strategy of "1234-28", in which "1" represents a digital spindle, "2" symbolizes two architectures of business and service, "3" denotes three platforms of artificial intelligence, big data, and cloud computing, "4" represents four major projects of business innovation and development, business science and technology integration, technical capacity building, and scientific and technological system and mechanism transformation, and "28" resembles the key promotion of 28 strategic projects.
3) China Merchants Bank
China Merchants Bank has put forward a digital transformation strategy of "five transformations": rethinking the bank's service objects and business thinking from customers to users; redefining the bank service boundary from bank card to app; reconsidering banking service logic and customer experience from transaction to customer journey; reinventing the basis of bank operation from reliance on experience to reliance on data; and transforming the bank's technological foundation and corporate culture from centralization to openness.
SUGGESTIONS ON THE DIGITAL ORGANIZATION TRANSFORMATION OF COMMERCIAL BANKS IN CHINA
1- Accurately grasp the evolution and direction of organizational leadership development and help the banking industry implement the digital transformation strategy
From industry 1.0 to 4.0, the business of the organization expands and the scale grows. At the same time, the difficulty of organization management gradually increases, and the demand for leadership is to upgrade from 1.0 to 4.0, keep the leading position, and identify, cultivate, and empower the "leaders" who adapt to the changes of the external environment and the realization of internal strategy (Figure 2).
2- Construct a digital leadership competency model and adopt the Three-Talent Model to empower digital organizational capability
Building a digital leadership model for commercial banks is the key to the difficulty and sustainability of transformation. The author puts forward the "talent mirror, intelligence mirror, and talent performance mirror" (Figure 3) to construct the digital leadership competency model of banks, which is composed of three first-level indicators and ten second-level indicators.

3- Systematically plan the digital organizational transformation of commercial banks
When commercial banks undergo digital transformation, they specify the transformation's strategic direction to ensure that it achieves the desired result. Most commercial banks, however, begin with technology and business and discover that the transformation effect is minimal, owing to the lack of organizational structure, ability, culture, management style, and leadership transformation, which cannot support strategic transformation. Therefore, the author proposes the systematic planning of digital organizational transformation (Figure 4).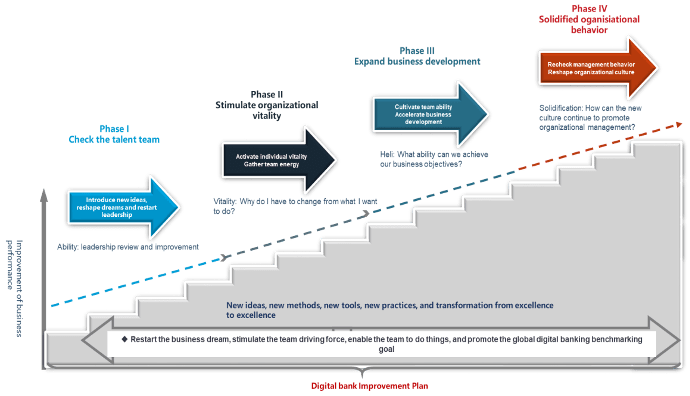 ***
(*) Author: Qiu Fengcai, Dean of Trent Management Institute, Doctor from Nottingham Trent University, Post-doctoral fellow from the University of Cambridge, Professor at JiMei University, and an expert member of the CIC Financial Technology and Digital Economy Development Committee.
Author: Gao Xiangyang, Doctor of business administration from the University of Hong Kong, Senior economist, and the current Chairman of the Board of Directors of ICBC Turkey Bank Anonim Sirketi.