By HUSNIYE GUNGOR
ALTHOUGH the Turkish market is not the top priority for Danish businesspeople, good government to government cooperation and Danish success stories in Turkey have helped Danish mission to promote business opportunities here. There are several pending investment projects which will possibly turn the Turkish market into a hub for production, R&D and a gateway for MENA operations, according to H.E. Anette S. Galskjøt, Consul General of The Kingdom of Denmark in Istanbul. "There are currently five big investment projects in the pipeline, especially in the district energy, pharmaceuticals, medical technologies, textile and food tech sectors," she says.
Trade between Turkey and Denmark totaled almost USD 2bn in 2019. Although a decrease is expected in2020 due to the pandemic, Galskjøt remains positive about the potential for future growth in bilateral trade. "Danish investments in strategic sectors have continued despite the economic challenges in Turkey," she says. "Strongly supported by Denmark´s export credit agency, EKF, several strategic projects have taken place in Turkey for many years, especially in energy, transport and infrastructure projects. And EKF has a successful relationship with the Turkish Eximbank for increasing bilateral investments."
As the mission chief also underlines, the role of the EKF is thus key to Danish companies' economic successes in Turkey. For instance, the credit agency took part in the deal to secure EUR 2.3bn in financing for the Gallipoli Bridge highway project in 2018 with partner financing institutions from 10 countries. EKF has financed almost all of the wind projects in Turkey up to the 2018 financial crisis. Most recently, EKF has inked a reinsurance cooperation agreement with Turkish Eximbank.
Total Danish investments in Turkey were USD 630m between 2002 and 2018, according to the Central Bank. Nearly USD 188m in investments was made in 2018. "This figure does not include any money transfers and investments from non-Danish banks for Danish companies," Galskjøt underlines. The DFDS acquisition of UN RoRo in 2018 alone was equal to EUR 950m and was the largest foreign direct investment in Turkey that year.
TURKEY: A PARTNER IN NEARSHORE SOURCING
The value of Turkish imports from Denmark was USD 1.027bn in 2019, according to TurkStat. Maritime, hightech machinery and pharmaceuticals are among the top in terms of value. The Danish mission chief says that they have observed a tremendous increase in exports of sustainable urbanization and environmental solutions as well as organic food and products in the last five years. "This proves that we are on right track bilaterally in terms of green economic growth."
The same statistics show that more than USD 990m-worth of Turkish products were exported to Denmark in 2019, mainly in automotive, textile and design. "We see Turkey as a close partner in nearshore sourcing, which has become even more relevant with the 2020 pandemic, when offshoring in China and the Far East became a challenge," Galskjøt notes.
It was only in 2015 that the two countries experienced a short slowdown in exports and imports due to political and economic uncertainties. "But even in that period, the Turkish market kept its strategic importance for Danish companies, and investments continued," she underlines.
As of the beginning of 2020, 684 Danish companies were operating in Turkey. Turkish company's in Denmark are relatively small but Galskjøt says the close cultural relationship and large, well-educated group of Turkish people (Denmark's largest ethnic minority group totaling more than 70,000) augur a bright future in terms of Turkish investments in Denmark.
"In the last couple of years, we have seen Turkish energy and smart technology companies establishing themselves in Denmark and using our country as a gateway to Europe" says Galskjøt adding that Denmark ranked fourth in the World Bank's 2019 Ease of Doing Business rankings.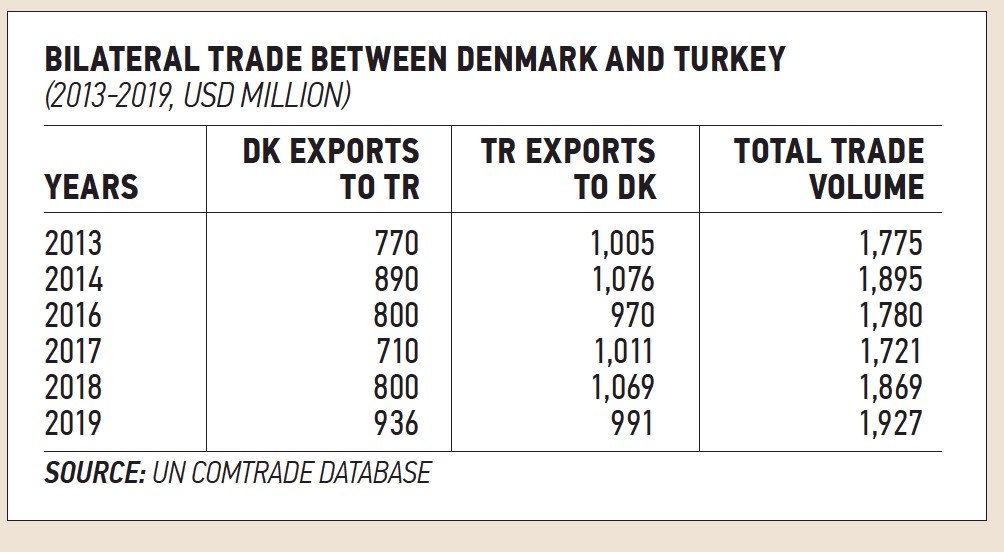 SUSTAINABILITY IS KEY
Denmark is firmly committed to contributing to the global sustainability agenda. Affordable and clean energy in particular is the backbone of the new climate strategy of Denmark, which also shapes bilateral relations and the foreign policy of the country. Therefore, sustainable economic activities constitute the most important poten tial sources of cooperation between the two countries, according to Galskjøt. The 2017 Strategic Sector Cooperation Agreement between Turkey and Denmark has as a focus the improvement of Turkish infrastructure for offshore wind and district energy using local and sustainable resources. "This makes us close partners in developing sustainable and innovative smart city solutions as well," she remarks.
Danish digital healthcare and agrotech companies are also expressing interest in forming bilateral relationships in these sectors, says the mission chief. "Thanks to the Danish government's various incentives for SMEs and start-ups and thanks to the close cooperation between Denmark and Turkey at the state level, we believe that our markets will continue to provide various economic and political cooperation opportunities."
However, the bilateral trade landscape is not all lavender and roses. Galskjøt says that some investment decisions have been put on hold due to COVID -19 and structural problems faced by Danish companies in the Turkish market remain. "The duration of the renewable energy incentive scheme is a big question mark for potential Danish renewable energy investments," she cites, "Whether the scheme will continue or not in the second half of 2021, whether it will be in foreign currency…these are some of the questions we are facing." The Istanbul mission and Danish companies are looking forward to a decision in this area soon, she says, adding that a stable economy and rule of law supported by long-term financing will fully exploit the potential between Denmark and Turkey.
The Danish Trade Council in Istanbul is working hard to get the infrastructure ready for these pending projects to be implemented in the near future. "Although it is relatively small and risky compared to Denmark's neighboring markets, such as Sweden, Germany, UK, The Netherlands, etc., Turkey is still promising and an important market for Danish investors in terms of its strategic location, low-cost, high-quality production and qualified human capital," Galskjøt says.
KEEPING AN EYE ON START̞UPS
The Trade Council in Istanbul mostly focuses on energy, environment, urbanization, healthcare, life sciences, food and agriculture, logistics and machinery. Innovation and sustainability crosscut each sector. The council also closely monitors and appreciates the Turkish start-up and innovation ecosystem.
The Turkish Ministry of Industry and Technology is working hard to establish a world-class and profitable infrastructure for R&D, Galskjøt notes. There is already emerging cooperation in R&D between the two countries in sustainability, urban solutions, healthcare and agrifood. Innovation will be the new potential area for cooperation. In addition, efficient water management is another strategic area that they will focus on in 2021. "The regional cooperation opportunities should also be underlined here," Galskjøt says. "The Trade Council for southeastern Europe, consisting of Serbia, Bulgaria, Romania, Croatia, Greece, and Israel, also faces similar challenges to Turkey's. We are working to explore synergies between the markets and optimistic about future collaboration."
The Turkish economy has been historically immune to the boom and bust cycles it has been through, according to Galskjøt, who believes that Turkey will recover from its current fragile position with its well-educated and ambitious workforce.
Swimming in the Bosphorus
H.E. Anette S. Galskjøt, the Danish Consul General in Istanbul, is a big fan of the Turkish people, food and all "the wonderful activities available here". The pros of living in a city like Istanbul include its diversity, from the Middle Eastern quarters and bazars on the historical peninsula to the top modern restaurants, art galleries and shops on the European side. Galskjøt had two of her three children with her in the first two years of her post. Between being the Consul General and a mom there was not a lot of time for hobbies. But now she is here on her own and although she misses her family, she really appreciates the opportunity to explore the city, hopefully this spring, when the pandemic is over. She is very fond of walking and loves watching the city and its life on the stretch from Bebek to Besiktas. Renting a boat for the afternoon during the weekend and sailing to the Black Sea or the Islands for lunch was her favorite activity with the family. As her time in Istanbul will finish in the summer of 2021, she hopes to have a last swim in the Bosphorus before she leaves the city.
ONGOING AND NEW PROJECTS TO INCREASE BILATERAL TRADE
>> Sector specific cooperation in offshore wind and district energy between the Danish Energy Agency and Turkish Ministry of Energy and Natural Resources will continue until 2022.
>> Governmental partnerships in Healthcare with a focus on R&D is about to begin.
>> Danish Green Growth Network (DGGN) and Healthcare Network in Istanbul have been paving the way for success stories by Danish companies in the Turkish market since 2013.
>> The recently launched investment scheme by Danish Energy Agency and Eximbank (EKF) on the green transition of developing countries including Turkey, is expected to open up new markets for Danish exporters of climate technology.
>> The Scientific and Technological Research Council of Turkey (TUBITAK) has a cooperation agreement with the Innovation Fund of Denmark, accelerating Danish-Turkish technology-driven partnerships under the Eurostars program at the EU.
>> Danish digital healthcare solutions are well utilized in newly-built Turkish city hospitals and are expected to increase synergies for tech know-how transfers in the region.
>> The Danish Consulate General is working on urban growth projects to be announced soon with Istanbul Metropolitan Municipality (IBB) on energy efficiency, waste management and water technologies.
DARUSSAFAKA HAS A BIG PLACE IN MY HEART
"Darussafaka has a big place in my heart and is one of our partners in Turkey providing quality education for disadvantaged youth, which is one of the UN Sustainable Development Goals. I have the deepest respect for the school, its community and values and in this respect, we happily coordinate several projects between the school and Danish companies in Turkey. After the pandemic, we are looking forward to continuing our Sustainable Children's Festival from Denmark in partnership with Darussafaka and our other partners."