International consulting firm Kearney and Enerji Gunlugu, the leading news source in the energy sector, has published the 'MW100, Turkey's Top 100 Electricity Producers Survey.' Electrik Uretim Anonim Sirketi (EUAS) took first place among Turkey's largest electricity producers list at 20,541 MWe while ENKA followed with 3,830 MWe and Enerjisa with 3,598 MWe. Other companies in the top 10 included Eren Enerji, Celikler Holding, Cengiz Enerji, Limak Enerji, Aydem Enerji, ICDAS and Bilgin Enerji.
The research, based on the installed power of electricity producers as of December 31, 2019, revealed that the domination of the public institution, EUAS, in the sector continues, despite privatization efforts begun in 2001 and accelerated after 2013.
Power plants under EUAS have installed power representing 23 percent of the total installed capacity of Turkey (91,267 MWe,) according to MW100 research. Of EUAS' total installed power, 12,776 MWe comes from hydroelectric power plants, 5,953 MWe from natural gas plants, 1,804 MWe from domestic coal plants, and 7 MWe from wind plants.
ENKA LEADS THE PRIVATE SECTOR
Among private sector companies, ENKA is the largest in terms of installed power, with installed capacity of 3,830 MWe.
ENKA plants accounts for four percent of Turkey's total production capacity. However, Enerji Gunlugu and Kearney point out that ENKA's natural gas production activities have decreased gradually due to market conditions, although its installed capacity is high.
ENERJISA RANKS THIRD
Sabanci's subsidiary, Enerjisa, is the third largest electricity producer in the MW100 survey with its 3,598 MWe installed capacity. German generator E.•N and Enerjisa have the most balanced resource distribution among the top three of the MW 100 list.
Enerjisa's production portfolio includes 1,583 MWe of natural gas, 450 MWe of local coal, 1,353 MWe of hydroelectric and 212 MWe of wind power, the survey reveals. Eren Energy ranks fourth place 2,8324 MWe installed capacity and Celikler Holding comes fifth with 2,713 MWe.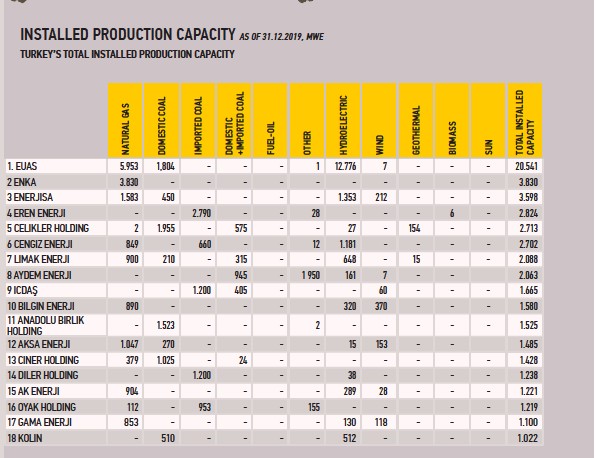 THE SECTOR HAS COME A LONG WAY
Kearney Turkey Director Onur Okutur notes the MW100 revealed the investor profile of energy sector in detail. Turkey has come a long way in ensuring supply security with its investment moves in recent years, he believes. "The strong increase in investments in renewable energy has also provided diversity on a resource basis," he says.
Kearney opened its Istanbul office in late 2019 to increase cooperation with stake holders in Turkey. "We will continue to add value in investors by bringing in the value of global experience and knowledge Kearney has," •kutur says.
MIRRORING THE INDUSTRY
The MW100 survey takes a detailed snapshot of the sector, aiming to support investors and sector stakeholders with a data and analysis-supported perspective, a kind of mirroring of the sector. Kearney and Enerji Gunlugu plan to continue MW100 in the coming years with plans to expand its scope. Potentially the survey will enable us to see the horizon of the energy sector.
CHANGES AHEAD FOR TURKISH ENERGY MARKET: Cem Asik, Electricity Producers Association Chairman
1- Production will rapidly shift from central facilities to distributed production.
2- Large consumers will actively participate in the markets.
3- Consumers will be able to earn money by evaluating their flexibility in demand.
4- Storage will become widespread with different business models.
5- Abundant natural gas, will pave the way of the gas market in Turkey and could change the electricity generation mix.
6- Hydrogen will be able to enter the fuel market and thus electricity generation as a carbonless gas.
7- The Block Chain will change the roles and processes of the markets.