BY HUSNIYE GUNGOR
"What's most important about the relaunch of our business here is that we have a very strong presence in a very important market. Turkey is an extremely important market because it's at the intersection of Europe, Asia, and the Middle East. And it has a very strong business community, which is also a leader regionally. There are many companies here, both domestic and foreign, that require our services. And our clients told us that we need to have a strong presence here in Turkey."
YOU HAD A CHANCE TO MEET THE TOP EXECUTIVES OF TURKEY'S BIGGEST COMPANIES. WHAT KIND OF FEEDBACK DID YOU GET ON BOYDEN GLOBAL'S COOPERATION WITH ERGENE CONSULTING? WHAT DO THEY EXPECT FROM A GLOBAL HEADHUNTING COMPANY?
The executives that I've met in Turkey have a problem on their hands that is very common with executives all over the world, especially in emerging markets, that is the political, economic, and social outlook is not certain. The crystal ball isn't very clear for many executives around the world. The question is, if you're going to make an investment or grow your business, how do you do that If you don't know what the tax situation, the economic situation, and the social construct will be in a few years. And that requires executives to use information, to understand and manage risk. So, it's difficult with the electoral process here in Turkey. I think there are probably a lot of Turkish businesses that don't know what the outcome will be. How are they expected to make their investments and think about growth when there's a lot that's uncertain? What's very interesting is I have had this conversation with CEOs and board members of many companies. Major leadership criteria today is the ability to make decisions in an agile way for many of them. How do you make decisions in a world that's changing very quickly? It's a leadership competency that is in very high demand right now, not only in Turkey but globally.
WHAT DOES THIS COOPERATION MEAN FOR A GLOBAL NETWORK OF A 77-YEAR- OLD COMPANY LIKE BOYDEN?
What's most important about the relaunch of our business here is that we have a very strong presence in a very important market. Turkey is an extremely important market because it's at the intersection of Europe, Asia, and the Middle East. And it has a very strong business community, which is also a leader regionally. There are many companies here, both domestic and foreign, that require our services. And our clients told us that we need to have a strong presence here in Turkey. So, we're here and I anticipate further investment in the Turkish market from Boyden because of that as soon as possible. My job is to grow the company responsibly and provide good service to our clients. And we have many, both current and future clients in Turkey.
Think back to 2022, about all the political, economic, social, scientific, and medical events that happened just last year. Our world is changing faster than ever before. So, I think that it's required for executives to know how to operate in an environment that is changing and is always in crisis. It's always stressful to grow companies in such an environment. I think Turkish executives have grown up in a more volatile environment since they were young managers. They've seen the economic, political, and social volatility change. So, I think they're just very accustomed to it. Managing their roles for them may not be as stressful as the executives that grew up in more stable, less volatile environments.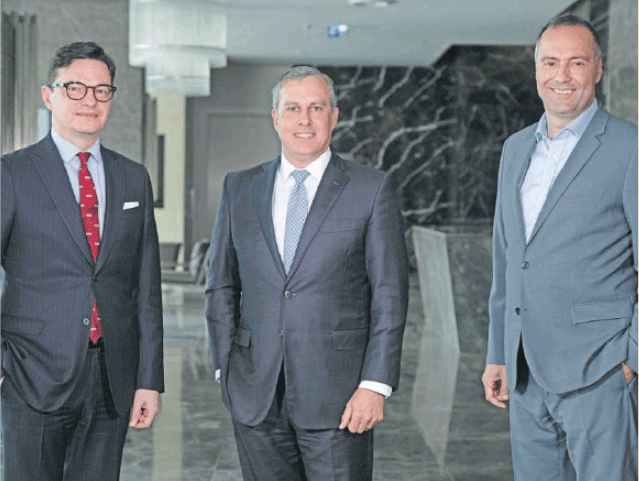 (From left to right) Boyden Turkey Managing Partner Ibrahim Paksoy, Boyden President and CEO Chad Hesters, and Boyden Turkey Country Manager Murat Ergene evaluated the opportunities Boyden's relaunch in Turkey in cooperation with Ergene Consulting will present to the Turkish business world. "Our cooperation will increase our role in exporting Turkish executives to the international arena and placing executives from abroad in Turkey, and will offer new business opportunities," said Ergene. "Staying connected with 70 Boyden offices in 45 countries will be the main point of a synergy of this cooperation. Each office is best at different business lines and with our CEO ensuring uniform communication between them, any office can benefit from others' experience for what they are experts at. There are also practice groups within the country such as consumer goods, industry, and HR, at which partners can join. For instance, Sisecam is investing USD 4bn in the U.S. with Ciner Group. They will supply some of their executives from the U.S. We will connect them with the U.S. office. We, as the Boyden Turkey team, will be supporting theme here locally for the executives they want to appoint from Turkey," he added.
BOYDEN TURKEY WILL INTRODUCE NEW SERVICES SUCH AS LEADERSHIP ADVISORY TO THE TURKISH MARKET. WHAT DOES THIS SERVICE INCLUDE?
We had a conversation with a very senior executive here in Turkey. And one of the number one items on his agenda was, how to assess his team to find out who the next leaders are for inside Turkey and to export to the other operations globally. There are three major aspects to leadership advisory services. The first is assessing executives for what their capabilities are and what is needed for their organization. If you're the CEO of a company, and you want to know
YOU SAID THAT TURKISH BUSINESS LEADERS HAVE STRONG MUSCLES IN CHANGE AND CRISIS MANAGEMENT. WHY IS IT IMPORTANT FOR GLOBAL BUSINESSES?
who's qualified and capable to take different jobs, how do you know this? Our leadership advisory experts would sit down with your executive team, and do a very formal and scientific-based assessment to provide you a report on each person individually. They also look at how your team works together. Assessment is very necessary for succession planning, which is a very delicate process. You have to start years in advance to have a good CEO transition. How do we assess them and understand their capabilities so that the board of directors will have the best information to make the best choice? Finally, we've got what we call team effectiveness. How do executive teams work best together? All these are the three main components of advisory services. Sometimes a company should go outside to bring in talent if they do not have the skill sets like digital talent, sustainability, and transformation. It is always better for companies to develop their own talent but most companies don't have very strong capabilities. So, that's the kind of service we provide. And more and more of our clients are needing those services.
TURKEY HASN'T BEEN A VERY EXPAT-FRIENDLY COUNTRY FOR THE LAST COUPLE OF YEARS. DO YOU THINK THAT MORE FOREIGN EXECUTIVES WILL BE CHOOSING TURKEY FOR THEIR CARRIER GOALS IN A POSITIVE MOOD AFTER THE ELECTIONS?
I do not know. What I do know matters to global executives and global companies regarding Turkey. It requires a good economic outlook, growing GDP, and a stable currency in order for more capital and people to come to Turkey. I think the majority of the CEOs I met did not know which candidate will win the election. But they know that Turkey has to have a stable economy going forward because that makes it easier for multinational companies to know what the world may be like in validating their investments.
ISN'T IT A GOOD THING FOR AN EXECUTIVE TO HAVE EXPERIENCE IN SUCH A CHALLENGING MARKET LIKE TURKEY?
Being here just for a couple of days has been very enlightening and talking to executives of the biggest Turkish companies opened my eyes and parts of my brain. I also got very interesting questions from the press members. It makes me think about Turkey's growth. The business community here is very excited about the future prospects for Turkey. And they're very energetic. And I hope that the economy supports that growth.
WHAT WILL BE THE MAIN COMPETENCIES OF LEADERS OF THE FUTURE? HOW DOES BOYDEN GLOBAL PREPARE FOR THE FUTURE?
We keep asking the same question to ourselves every day. What have our clients seen has happened in their markets? And how can we serve them better? Doing this forces us to contemplate innovation and technology. We've started an artificial intelligence technology pilot program inside our company to understand how we can use artificial intelligence to serve our clients better. I don't think we would be doing that if our clients weren't dealing with the same issue. So, I think we stay close to the future by staying close to our clients understanding what they care about and what their problems are. This will tell us what our priorities are in the future as well. And other than that, we need to have a leadership team in Boyden in our different geographies, that is comfortable dealing with risk and able to make decisions in a very fast-paced world.
WHAT ARE THE MAIN EXPECTATIONS OF TODAY'S EXECUTIVES BASED ON THE RESEARCH YOU MAKE?
We're releasing the 2023 global executive survey next month. But I'll give you a little bit of a preview. We asked over 1,000 executives all around the world the same set of questions. Two very interesting points came out of it. 65% of those executives said that they expect recruiting talent to be difficult over the next year. 60% also said that retaining talent is difficult and is an area of concern for them. Talent management and human capital are at the top of the agenda for global leaders. And this isn't new. But what's interesting is that the talent they need are our new types of talent that we've never seen before such as executives that know how to use artificial intelligence, machine learning, and digital platforms. The second talent they need is executives that know how to transform companies in a highly technical environment. The third is sustainability and ESG managers. The companies haven't had the function of ESG for very long so we have to build it. So, that's the third most sought-after new executive skill set. Human resources have also changed a lot with remote, flexible working schedules and technology. In the past, you would hire a salesperson and say here go sell this product. But now, because the world is so integrated, and changing so quickly, a salesperson has to understand a client's procurement processes, and how clients use and need products better faster. So, those are the five highest-demand skill sets that we heard from our executive survey that is needed in corporations around the world.