BY BESTENIGAR KARA
The home appliances company Arzum Elektrikli Ev Aletleri (Arzum) aims to become a global brand, according to Serhan Giray, Commercial General Manager of Arzum Elektrikli Ev Aletleri. The firm, which caught a 60% growth in foreign sales in 2022, also plans to increase the share of foreign sales in its total sales. "Arzum sells its products to 60 countries, including direct sales to 48 countries and e-commerce sales. Foreign sales accounted for around 11% of our total sales in 2022," Giray told in an exclusive interview with TR MONITOR.
Founded in 1966 in Turkey, Arzum currently offers its products under six categories: food preparation, cooking and frying, hot beverage preparation, cleaning, personal care, and ironing. Arzum raised its revenues by 88.6% to TRY 1.5bn at the end-2022, despite the economic recession in the world. The company's real operating profit and net profit totaled TRY 158.5m and TRY 40.6m, respectively, last year. Its earnings before interest, tax, depreciation, and amortization (EBITDA) surged by 85.4% to TRY 170.9m in 2022, year-over-year. "Although we annually pay dividends, our return on equity reached 20.1% while our equity size surpassed TRY 200m," Giray noted. The female employment rate of Arzum, which also increased its total employment from 160 to 175, has risen to 45% as of the end-2022.
Arzum has strong sales figures in Turkey, according to Giray. Its sales have an upward trend, especially in the food preparation category in the country, where it has not left its leadership seat for over a decade.
Moreover, the firm has focused on the e-commerce channel for a long time. Within the scope of the long-term sales channel strategy, the company, which structured and completed the necessary infrastructure work for e-commerce, reorganized its sales channel and gathered its e-commerce channel under a single roof in 2017. Arzum reaches its consumers via its official website and other e-commerce platforms. "We reaped the fruits of all these investments during the pandemic. We easily meet the rising e-commerce demand today."
However, Arzum's investments seem not to end with it. The firm continues to invest to achieve its future e-commerce sales targets and reach the potential it aims for. To do so, Arzum develops its services and solutions in Turkey in line with the consumer expectations that buy its products through e-commerce channels. "We especially invest in fast delivery, packaging, purchase, and after-sales to offer exclusive service to consumers," Giray said. That is why the company established a global e-commerce department at the end-2022. Arzum aims to double its current e-commerce volume and make active sales at all marketplaces with a potential. It plans to be one of the pioneers of its sector in e-commerce in Turkey.
ESTABLISHES OVERSEAS SUBSIDIARIES
Arzum plans to carry its domestic business model abroad within the frame of the overseas expansion. The company establishes subsidiaries and sets up offices in various countries with strategic priority in line with its business objectives. For instance, Arzum established a subsidiary in the U.S. in November 2022 to expand its existing operations further and accelerate reaching its global targets. Arzum, which also has subsidiaries in Hong Kong and Shanghai in China, operates an office in Germany. "In line with our overseas growth objective, we penetrate the new markets and countries, including those with strategic priority for Arzum," Giray said, stressing that the firm's sales have recently started in the Baltic States, which include countries such as Estonia, Lithuania, and Latvia, and entered the chain stores.
To him, the products of the Turkish coffee machine series Arzum Okka burst into prominence abroad. The company has strong momentum in the European Union (EU) and Middle East countries, which are among the most important target markets for Arzum. The firm's e-commerce sales volume more than doubled in the EU countries in the first quarter of this year, compared to the same period of the previous year. "We work with a German logistics firm to deliver our products in Europe in the fastest way," Giray noted.
HITS HISTORIC HIGHS IN R&D
Arzum complies with the rapid change in trends, consumer profiles, and preferences. "Determining consumers' future needs has especially become important in recent periods. Offering new products, and using new technological developments in our products have always been among our goals, and they will be the same in the future."
Product development creates a large part of Arzum's R&D studies. The company merges its 5-year innovation strategy with consumer trends and shapes its category plans, instead of the annual product-based units' targets.
Today, the firm continues its R&D studies at Teknopark Istanbul and Nigde Teknopark. Arzum, which had 53 projects last year, reached the highest number of R&D projects in its history. "The approach adopted in the new product projects is to develop products specific to domestic and foreign markets and conduct R&D activities in this direction," Giray said. In addition to the categories considered as the development fields, the hike in the new product projects in other categories contributed to Arzum's intellectual property rights portfolio. The number of subject-based patent applications by the firm totaled 13 in 2021. The figure reached 21 as of 2022 and broke a company record last year.
Apart from R&D, technology, design, and innovation, Arzum also aims to maintain its works based on sustainability. The company released its first sustainability report last year. "We will continue to annually release our report, which we prepared in line with the Global Reporting Initiative (GRI) standards revised by the GRI," Giray noted.
The firm has also kicked off the production and packaging conversion process within the frame of the Carbon Border Adjustment Mechanism (CBAM) and Circular Economy Action Plan stipulated by the EU Green Deal. "We have started to deliver the spare parts with plastic crates instead of cardboard boxes with the sustainability project we began in 2022," Giray said, stressing that they have also reduced the cardboard box usage and waste creation at Arzum authorized services in Istanbul. Arzum also started the Cardboard Transformation project to prevent and reduce waste.
Moreover, the firm contributed to the fight against climate change with route optimization and started the daily delivery plans through an integrated system developed with the software firm Geowix. "With the project, we averagely achieved 20% efficiency in fuel consumption at five vehicles in a day," Giray noted.
On the other hand, Arzum offered 3,834 renewed products, which were returned from dealers, unused but could not be put on the market, with a 1-year guarantee. It also supplied the needed spare parts from unused products. "We efficiently benefitted from those products and reduced the needs for new production such as raw material and energy."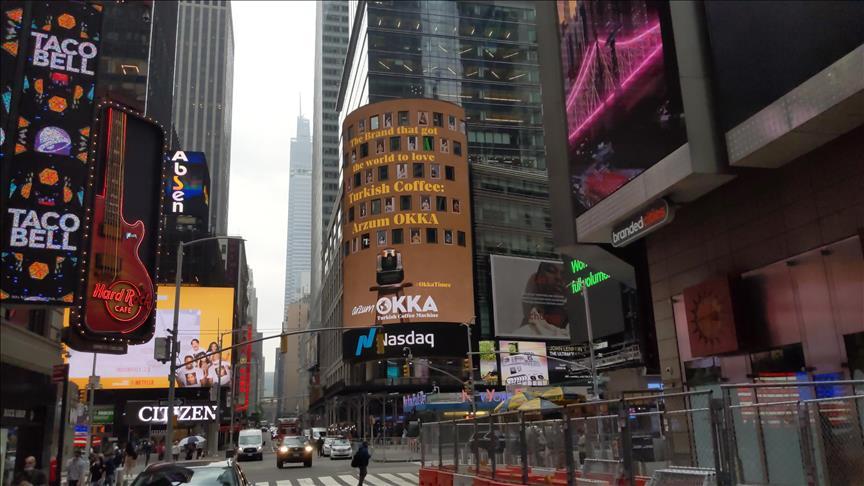 Arzum worked on the on-wall advertising for its Okka brand at the NASDAQ building at Times Square in New York, the U.S., in 2020 and 2021. Arzum Commercial General Manager Serhan Giray said they aim to promote Arzum further in the international arena and raise the number of Arzum users in the world, with digital marketing projects, advertising works, and collaborations with influencers.
"MARKET SIZE IS THE BIGGEST ADVANTAGE"
Touching on the home appliances trends, Giray stated that the supply and demand in the domestic and foreign markets continuously accelerate upward. The sector has grown with innovation in recent years. "Products such as robotic vacuum cleaners and air fryers are the most concrete examples. Such innovative products will direct the industry in the upcoming period," Giray said. To him, the market size is the most important advantage of Turkey. "The sector easily adopts innovation, has a high adaptation capacity, and is open to innovation in Turkey. Those are among other advantages," Giray noted.
SOCIAL RESPONSIBILITY COMES FIRST
Arzum, which collaborates with the Turkish Chess Federation (TSF), has sponsored the Turkish Chess Women's Championship (TCWC) for 15 years. "This project serves the gender equality purpose which Arzum advocates in many fields," said Arzum Commercial General Manager Serhan Giray. "We adopt the socially and environmentally sensitive, beneficial, and responsible brand understanding. Acting in line with social responsibility awareness is fundamental in our management understanding in all our activities," Giray added. To him, Arzum prioritized the foster family and child adoption concepts in its movie on Mothers' Day in 2021, which was named "The Most Beautiful Story of Arzum" and watched 96.6 million times. The "There is My Mother" film shot by Arzum with Busra Ozturk, ranked second at the TCWC, for Mothers' Day in 2022, focused on the struggle of Ozturk, who started playing chess when she was five years old despite losing her right eye at the age of 6, with the support by her mother. "This film highly contributed to the surge in interest in chess," Giray noted. Arzum also supports the Hayat Sende Foundation, which works with children and young people under protection and individuals left from the protection. "We will continue to contribute to people, touch their lives and be near them when they need, in different projects," Giray added.
PARTICULAR IMPORTANCE TO THE TURKISH COFFEE PROMOTION
Arzum implements many projects to promote the Turkish coffee culture at home and abroad. The documentary film named "Baslangic: Anadolu'nun Turk Kahveleri Oykuleri" shot by the U.S.-based Turkish Coffee Lady Foundation and sponsored by Arzum, was shown in Hollywood in 2021, in Los Angeles on May 20 and May 22, 2022, and San Diego on May 24-25, 2022. The firm also attended the London Coffee Festival with its OKKA brand on March 31-April 3. December 5 is celebrated as World Turkish Coffee Day. It has been on the UNESCO list of intangible cultural heritage since 2013. "We achieved this success through the efforts of the Turkish Coffee Culture and Research Association," said Arzum Commercial General Manager Serhan Giray. In this sense, the company organizes various events. For instance, it held the Turkish coffee-tasting event, cooked by Arzum Okka, with the Turkish Coffee Lady Foundation. The company also organized a 3-day tasting event at ICoffee branches in Dubai and held another event in Germany where German Chief Alex Wahi prepared a tiramisu with Turkish coffee. Moreover, Arzum gathered Turkish model Tulin Sahin with Tesla, SpaceX, and X CEO Elon Musk and Elon Musk's mother Maye Musk on social media. The firm also organized an event at Beta Han, where Turkish coffee was roasted for the first time in Istanbul.