Future is Short
Istanbul Modern's new film program, the Future is Short, offers a good way to start the new year with brand new short films. The program consists of two sections which will be screened online free of charge: The first section, "Count us in!" includes 19 Turkish short films, including Eren Aksu's Other Than That, I'm Fine, Resat Fuat Cam's Coal and Imge and Senem Ozbilge's 21xoxo. The second section offers 8 foreign short films that were nominated for Academy Awards in the Best Animated Feature and Live Action Short Film categories in 2020, including Siqi Song's 2018-film Sister, Bruno Collet's 2019-film Memorable and Daria Kashcheeva's 2019-film Daughter. In addition to these screenings, which range from 3D animations to documentaries and dramas, the film directors will also make themselves available to the audience. The films will be screened on Istanbul Modern's Youtube channel.
For more information, visit istanbulmodern.org
BLIND SPOT
Istanbul Foundation for Culture and Arts' (IKSV) film screening program, part of the 2020 Istanbul Film Festival, continues with Patrick-Mario Bernard and Pierre Trividic's 2019 film Blind Spot. The film, to be screened on January 24, tells the story of Dominick Brassan, who has the power to become invisible but keeps it a secret. Then, when his ability to control his gift gets out of hand, his life, friendships and relationships are turned upside down.
For tickets and more information, visit filmonline.iksv.org
YARKIN TURK RITM GROUP
On January 29, the Cemal Resit Rey Concert Hall (CRR) will screen the concert of Turkish rhythm music ensemble, the Yarkin Turk Ritm Group, consisting of ten musicians, with Derya Turkan on kemancha and Ozer Ozel on tambour and vocals. The group will perform a mixed repertoire of court music and traditional compositions.
The concert will be available on CRR's Youtube channel.
IN THE BODY
Evliyagil Dolapdere presents Turkish artist Nazli Gurlek Hodder's first solo exhibition. Hodder brings together installations and objects she produced using earth-based materials such as volcanic stones, soil, copper and vegetable oils on paper and canvas. The paintings, wandering between the abstract and figurative, bear traces of the artist's physical movements, emotions, feelings and interior monologues.
The exhibition is available at Evliyagil Dolapdere from Tuesday to Friday between 11am and 5pm.
ECHOS: ASSIMILATION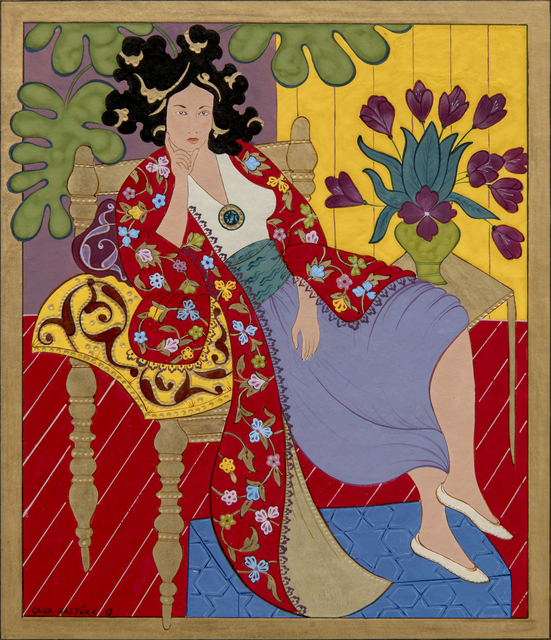 Recognized for his combined style of Islamic painting and design with contemporary art, Turkish painter Onur Hasturk meets art lovers with his first solo show at Anna Laudel Istanbul. Hasturk draws freely from the numerous artistic cultures of Islam and places them in new conversations with the art of the modern West, from Henri Matisse to Andy Warhol.
The exhibition is available at Anna Laudel Istanbul from Tuesday to Friday between 12pm and pm. For appointments, visit: annalaudel.gallery
YELING
CAM Art Gallery will host Turkish painter Mahmut Celayir's solo exhibition Yeling, 2021's first exhibition at the gallery. The artist was inspired by a healing plant called Yeling growing high up in alpine environments, which is acknowledged as the forerunner of spring. "Inspired by local material sprouting on summits and keeping our lives company, I wanted to reach out to genesis of the cosmic and organic, with a detailed perspective," Celayir explains.
The exhibition is available at CAM Art Gallery from Tuesday to Friday between 12pm and 6pm.
COLLECTIVE
Directed by Alexander Nanau, the 2019-documentary, Collective, is another film from the IKSV's Istanbul Film Festival program. To be screened on January 29, the film depicts a riveting real-life story in Romania. Nanau follows a team of investigators at the Romanian newspaper Gazeta Sporturilor as they try to uncover a vast health-care fraud that enriched moguls and politicians and led to the deaths of innocent citizens.
Tickets are available at filmonline.iksv.org
REUNION
Independent art platform x-ist presents the 10th solo exhibition of Turkish artist Ansen. The artist offers the audience a construct of his new works that reflect his series focusing on power and human relations. The exhibition demonstrates the transformation of Ansen's works by following how he adds a new dimension to his themes, carved out of multiple disciplines, with each new series.
The exhibition is available at x-ist from Monday to Friday between 12pm and 6pm.