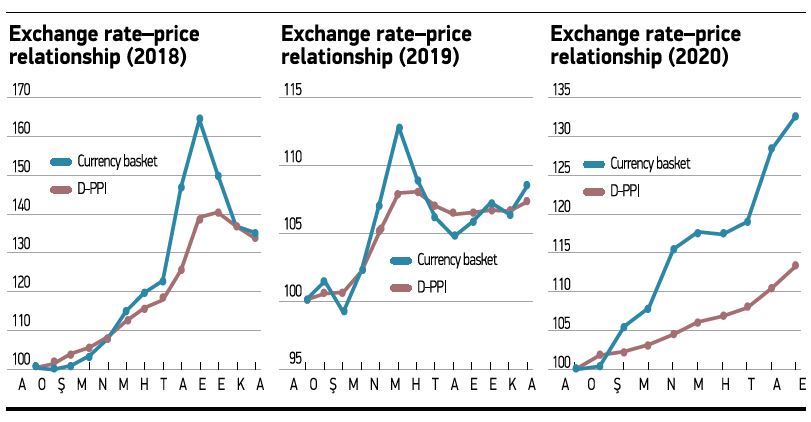 IN THE first nine months of the year, the increase in the domestic producer price index (D-PPI) was 13% percent while the currency basket increased 33%. Do producers not reflect the cost burden resulting from the exchange rate increase on their products, or is there another detail we do not know?
Exchange rate increase is the most important cost item for a country like Turkey, which meets a large portion of its energy needs through imports and requires imported intermediate goods and raw materials for production. There is an exchange rate effect, for instance, on tomatoes grown in Antalya and sold in Ankara or Istanbul. There is also a currency effect on the price change of the curtain you buy for your home, the food you eat at the restaurant, the money you pay during your holiday.
As long as the national currency loses value, it is inevitable that prices will increase domestically. But this year there is a strange situation: The relationship between the exchange rate increase and price increase seems to have diverged wildly. Prices have continued to increase alongside the exchange rate, but there is a significant gap between the rates of increase.
First, let's set a baseline for comparing the increase in exchange rates with the price increase: For the exchange rate, I have taken into account the basket rate of one dollar and one euro. In addition, I made my calculations based on the day-weighted monthly average value, not the month-end value of the basket rate.
I also used the domestic producer price index (D-PPI) for prices, because this is the index that is primarily affected by the exchange rate increase. Of course, there is a transition from D-PPI to CPI over time. However, it is more accurate to make the exchange rate-price comparison using D-PPI.
SIMILARITIES 2018 AND 2020
Both 2018 and 2020 are similar in terms of high exchange rate increases. This year, there has been a rapid exchange rate increase, though not the same as in 2018. Where the years diverge is the impact of this
increase on prices.
The currency basket increase in the first nine months of 2018 reached 64%, and the D-PPI increase in the same period was 39%. With the resolution of Pastor Brunson crisis and the massive interest rate increase of the Central Bank, the TRY gained value and the ten-month increase in the exchange rate fell to 50%. However, the prices continued to increase, albeit a little, and reached 40%. In the following months, the decline in the exchange rate became was more pronounced and the exchange rate increase and price increase reached an equilibrium.
This year, the increase in the currency basket over the first nine months reached 33%. However, the increase in D-PPI was only 13%. In other words, the increase in the exchange rate did not have much effect on prices this year. But why?
Inflation forecast will be hard to meet
THE CPI estimate for this year, which is included in the new economy program covering 2021-2023, is 10.5%. According to the statement by the Turkish Statistical Institute (TurkStat) last week, the CPI over the first nine months was 8.33%. So if we can keep the increase in the last quarter of the year at 2%, we will be able to meet the 10.5% estimate. In the 17 years from 2003 to 2019, when the new series of CPI was created, the average Q4 increase was 3.08%. Over these 17 years, the average for October was 1.97%, for November 0.78%, and December 0.31%. Is there any chance that we can reduce the rate from 3 to 2% in three months total this year? The increase in the exchange rate reflected very little on D-PPI in the first nine months. Therefore, there was very little reflection on the CPI. Conditions suggest that even 3% will be difficult, let alone the 2% we need. So the estimate may be 10.5 %, but the reality will be 11.5%, 12% or more…