HOUSE sales and secondhand transfers have decreased to levels that are considered normal. We neither see the lows we saw in April and May nor the highs due to advantageous loans.
The interest rate on housing loans increased by nearly 2 points in the first week of December compared to the November average. That's why the slowdown in mortgaged sales and transfers may become even more pronounced. That's normal; it's expected: the end of the juicy interest rate incentive was naturally going to
lead to house sales returning to normal levels. Consequently, those nightmarish days in April and May are on the horizon as interest rates gradually continue to rise. It seems like we will look back longingly at November data in the not-too-distant future.
Turkish Statistical Institute (TurkStat) data revealed that mortgaged house sales remained low in November, even though they rose slightly compared to October, to 8,822 from 8,137. In the first three months of the year, however, they were between 14,000-15,000, dipping to 6,000 in April and May due to the pandemic and increasing to 39,000 over the following three months because of the loan incentives. In July, when sales rose to 39,000, the interest rate on housing loans decreased to 9.11%. By November, it was back up to 15.68%.
The graph shows it all: interest rate down =sales up; interest rate up = sales down!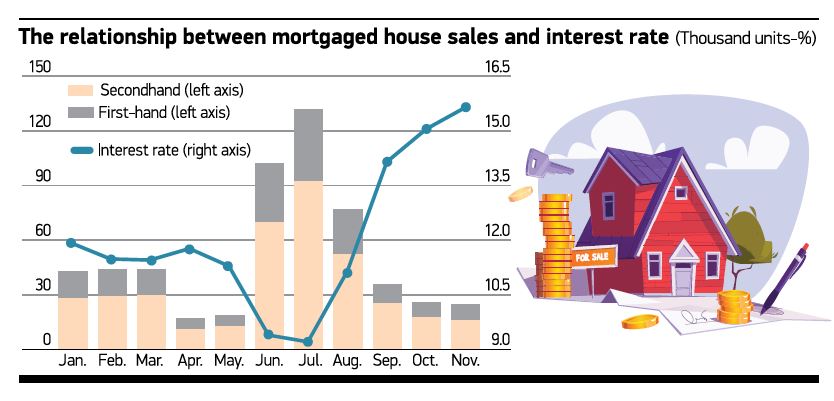 The same trend applies in transfers as well. Let me remind you that the sales amounts that I cite here are firsthand sales. I always emphasize this: sales means firsthand sales. Secondhand sales are not sales, they're only transfers, just like in vehicles. Maybe one day we will get rid of this approach. We won't have secondhand house sales, only secondhand transfers. The secondhand transactions both in vehicles and houses are of course sales from the perspective of people. But in an economic sense, these transactions are nothing but transfers.
When you take a look at the trends in secondhand transfers, it's not very different than new sales. The number of secondhand transfers stood at 27,000-29,000 in the first quarter when the interest rate was around 11%-12%. The rest is clear: transfer numbers stood at the lowest level in October and November after April and May.
With interest rate increase, sales likely to decline
The interest rate on housing loans stood at 15.68% in November but there's week by week increasing trend: According to Central Bank data, the interest rate on housing loans was at 16.10% in November but rose to 17.49% a week later on December 4. When you consider the inverse relationship between the level of the interest rate and sales, it's safe to say that right now, house sales are below the previous month.
Total sales stuck at 37,000
Nearly 37,000 houses were sold in November. Of course, what I mean by house sales are firsthand sales. Secondhand transfers are something else. The November sales are nearly at the same level as of October. The monthly sales stand at 35,000. The same level was seen in the first three months of the year, there was an extraordinary slowdown in April and May due to the pandemic, then sales rose again in June, July, August and partially in September with the loan incentives. And now we are back to normal. It seems like firsthand sales will not experience monthly volatility; sales will move between 35,000-40,000 under normal conditions. The normal level in secondhand transfers seems like it will be between 75,000-80,000.