FROM the beginning of the year until November 6 non-residents were, with few exceptions, on a selling spree of Turkish stocks, off-loading a total of USD 5.8bn. This wave halted during the second week of November when foreigners began buying. I don't think that the timing of this reversal is a coincidence. Although economic policies did not experience any fundamental shifts, two important positions that have a say over these policies changed on November 7. First, the Central Bank governor was replaced; then the Minister of Treasury and Finance. In the three weeks since, foreigners have been buying stocks, amassing USD 1.2bn worth in just three weeks.
Foreign investors made the USD 5.8bn in sales at an average index level of 1,055 and an average exchange rate of TRY 6.72. The average index and USD exchange rates show the averages calculated by weighting the weekly sales amount, rather than the arithmetic average.
Foreign investors capitalized on a small – 14 kurus – advantage over the arithmetic average exchange rate of TRY 6.86 as they exited in the period between the beginning of the year and November 6. However, another calculation is needed to see this advantage in the exit.
Foreigners converted the TRY they received from the stock sales to USD from the TRY 6.72 rate during their exit. Those who arrived had the opportunity to convert their dollars from TRY 7.94.
The exchange rate was lower when TRY was converted into foreign exchange and it was higher when foreign exchange was converted to TRY, but there's a price side to this calculation. Foreigners sold at low prices, and exited from the low foreign exchange rate, then bought TRY at high prices by entering at the high foreign exchange rate.
So what's the result? Who was more profitable at the end of this transaction?
FOREIGNERS MADE USD 663M NET PROFIT
I stated that foreign investors sold USD 5.8bn in stocks at an average foreign exchange rate of TRY 6.72 and an index level of 1.055. So, what would have happened if foreigners did this after November 6?
The index stood at 1.192 on November 6, meaning an average of 13% increase. In this case, foreigners would get more TRY. But the foreign exchange rate was not TRY 6.72 when they converted their TRY to foreign exchange, it was TRY 8.46. So foreigners were supposed to receive USD 5.2bn, instead of USD 5.8bn as a return for the stocks they sold. Hence, foreign investors received a USD 598m profit by selling earlier.
What about the outlook over the last three weeks? Foreign investors also profit from these transactions. Foreigners converted their foreign exchange to TRY from the average TRY 7.94 exchange rate and bought from the 1.285 average index level between November 6 and 27. Let's assume foreigners made purchases in the three weeks ending November 27. Foreigners would have to spend more since stock prices increased by 3.4%. In addition, the foreign exchange rate decreased compared to three-week averages and stood at TRY 7.80. So, a total of USD 1.3bn would be required for stocks, which were bought with USD 1.2bn incoming foreign exchange on a three-week average. Since stock prices increased and the foreign exchange rate declined, foreign investors bought the same amount of stocks but paid USD 65m less. So foreigners had a net advantage of USD 663m in total. •
The unemployment-growth (dis) connection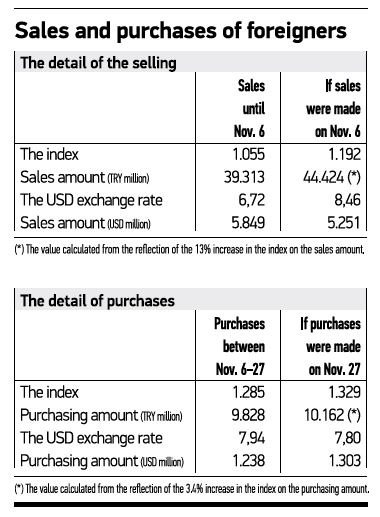 SOME data complete one another in the economy, coincide one way or another. The Turkish economy contracted by 9.9% in the second quarter due to the pandemic. This rate was natural. But what was abnormal was the unemployment rate during April, May and June when economic growth declined. The May unemployment rate, which shows the average of these three months, became 12.9%. In the third quarter, economic performance grew by 6.7%, above expectations. Wouldn't it be normal for unemployment to decline in a period when the economy is rapidly growing? Yes, that's reasonable. But the unemployment rate in the third quarter increased to 13.2%. Are the growth numbers or the unemployment data wrong? Or are both of them wrong? •